Product Description
In our product range, we offer a superior quality range of Dabrafenib Mesylate CAS 1195768-06-9. Dabrafenib Mesylate CAS NO 1195768-09-6, also known as GSK-2118436B that is a selective BRAF V600E inhibitor and is widely used to anticancer. It is processed under monitoring of quality controllers in order to offer an international quality standard product range. High purity and stability are its salient features.
l Thera. Category:Anti- cancer
l Cas No.: 1195768-06-9
l Synonym:Dabrafenib Mesylate(GSK-2118436B);Dabrafenib Mesylate;GSK 2118436 Mesylate;GSK 2118436B;GSK2118436 Mesylate;GSK-2118436 Mesylate;Dabrafenib Mesylate (API);GSK 2118436 methanesulfonate salt
l Molecular Formula:C24H24F3N5O5S3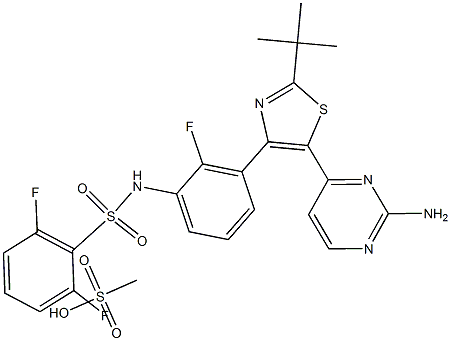 l Molecular Weight:615.6680696
l Assay: ≥97.%
l Packing:Export worthy packing
l Material Safety Data Sheet:Available on request
l Usage: Dabrafenib, also known as GSK2118436, is an orally bioavailable inhibitor of B-raf (BRAF) protein with potential antineoplastic activity. Dabrafenib selectively binds to and inhibits the activity of B-raf, which may inhibit the proliferation of tumor cells which contain a mutated BRAF gene. B-raf belongs to the the raf/mil family of serine/threonine protein kinases and plays a role in regulating the MAP kinase/ERKs signaling pathway, which may be constitutively activated due to BRAF gene mutations. On May 29, 2013, FDA approved this drug.
Related Intermediates :

1. CAS 630-22-8,2,2,2-Trimethylthioacetamide
2. CAS 914223-43-1,3-AMINO-2-FLUOROBENZOIC ACID