Product Description
Azilsartan cas number is 147403-03-0, a new generation of selective AT1 subtype angiotensin II receptor antagonist antihypertensive drugs. Azilsartan won the listing approval on January 2012. Azilsartan is an angiotensin II receptor inhibitor that reduces blood pressure by blocking the activity of the angiotensin II receptor. For many patients, inhibition of renin-aldosterone system (RAS) activity alone in multiple selective AT1 subtype angiotensin II receptor antagonists that are already on the market does not adequately control blood pressure and reduce cardiovascular and diabetes mellitus risk. Azilsartan compared with angiotensin-converting enzyme inhibitor (ACEI) class of antihypertensive drugs, own the advantages pf stable antihypertensive, does not cause the dry cough. Azilsartan also showed a potent antihypertensive effect on hypertensive animal models. Compared with candesartan cilexetil and olmesartan medoxomil, antihypertensive effect continued to have a steady antihypertensive effect after 24 hours, so it can confirm that its antihypertensive effect has a good continuity. In addition, Azilsartan is considered to have potent visceral protection due to its better insulin resistance and greater inhibition of urinary protein excretion than candesartan cilexetil.
Azilsartan cas number 147403-03-0 can use alone or in combination with other antihypertensive drugs for the treatment of hypertension and its complications, is considered as the next generation of candesartan cilexetil. At present, Azilsartan has listed preparations of tablets, pills, injection and transdermal paste, etc., compared to these, Azilsartan sustained-release tablets has more better effort.
in Parkinson's disease rat model,Some researchers found that oral Azilsartan can significantly inhibit brain dopaminergic neuron apoptosis in the substantia nigra and significantly improve the typical behavioral symptoms of Parkinson's disease, therefore, Azilsartan can be used as a potent drug for the treatment of Parkinson's disease. Azilsartan can be used directly as an oral medication for the treatment of Parkinson's disease in specific applications. This finding has expanded the scope of Azilsartan applications and increased the diversity of drug options for patients with Parkinson's disease.

Thera. Category: Anti-Hypertension
Cas No.:147403-03-0
Synonym:Azilsartan 2-Ethoxy-1-[[2'-(4,5-dihydro-5-oxo-1,2,4-oxadiazol-3-yl)biphenyl-4-yl]Methyl]benziMidazole-7-carboxylic acid;1-[[2'-(2,5-Dihydro-5-oxo-1,2,4-oxadiazol-3-yl)[1,1'-biphenyl]-4-yl]Methyl]-2-ethoxy-1H-benziMidazole-7-carboxylic Acid;Azilsartan (TAK-536);AZILSARTAN;2-Ethoxy-1-[[2'-(4,5-dihydro-5-oxo-1,2,4-oxadiazol-3-yl)biphenyl-4-yl]methyl]benzimidazole-7-carboxylic acid;Tak 536;Unii-F9nux55p23;2-ethoxy-3-((2'-(5-oxo-2,5-dihydro-1,2,4-oxadiazol-3-yl)biphenyl-4-yl)Methyl)-3H-benzo[d]iMidazole-4-carboxylic acid;
Molecular Structure: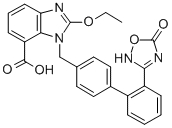 Molecular Formula:C25H20N4O5
Molecular Weight: 456.45
Pharmacopeia: In house Spec.
Specifications:Available on request
Packing:Export worthy packing
Material Safety Data Sheet:Available on request