Product Description
AcotiaMide Hydrochloride CAS number is 185104-11-4, which is a new muscarinic M1, M2 antagonist and adenosine A1 receptor antagonist, clinically isused to improve gastric motility and treat functional dyspepsia. AcotiaMide Hydrochloride is different from the general gastrointestinal motility drugs such as itopride, mosapride, it can promote the release of acetylcholine in the endogenous cholinergic nerve endings to improve gastrointestinal motility, as the first drug to improve gastrointestinal motility. Because of the hygroscopicity of acotiamide hydrochloride, its stability is poor. Under the conditions of high temperature and high humidity, the related substances greatly increase and are easy to crystallize, thereby affecting the stability of the preparation. Therefore, the preparation of AcotiaMide Hydrochloride formulation,, composition selection and dosage becomes even more important. The free choose of formulation of its ingredients may also make the dissolution of AcotiaMide Hydrochloride capsules worse, the related substances increased, the water content increased, and even unable to granulation. The traditional technical scheme adopts the wet granulation process to prepare the tablet cores and carries out the coating. In order to avoid the defect of wet granulation, some people use powder direct compression process to ensure its stability, but after a large number of experiments found that with this prescription and process Preparation of large differences in the amount of dosage, low dissolution, severe hygroscopic, a great impact on product quality.
In view of the existing shortcomings of AcotiaMide Hydrochloride CAS number is 185104-11-4, like capsule poor mobility, low dissolution, poor stability and other shortcomings, after a long-term in-depth study of the experimenter, considered the impact of various components, optimized the composition formula of AcotiaMide Hydrochloride capsules, choose acotiamide hydrochloride, microcrystalline cellulose, starch, tyrosine, sodium alginate, glyceryl behenate prepared acotiamide hydrochloride capsules, the synergistic interaction of the composition, not only to make AcotiaMide Hydrochloride capsules with good fluidity of the test , small differences in loading capacity, high dissolution, hygroscopicity was significantly reduced, good stability also improves the efficacy, greatly improving the safety and effectiveness of the drug.

Thera. Category: GASTROINTESTINAL DRUGS
Cas No.:185104-11-4
SynonymN-[2-[Bis(1-methylethyl)amino]ethyl]-2-[(2-hydroxy-4,5-dimethoxybenzoyl)amino]-4-thiazolecarboxamide hydrochloride;N-[2-[Bisisopropylamino]-ethyl]-2-[(2-hydroxy-4,5-dimethoxybenzoyl)amino]-4-thiazolecarboxamide HCl;:Acotiamide hydrochloride;
Molecular Structure: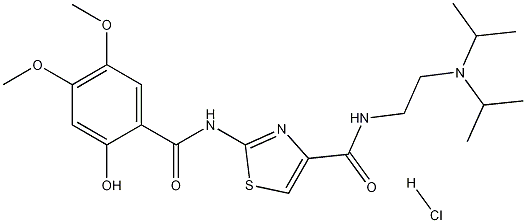 Molecular Formula:C21H30N4O5S.HCl
Molecular Weight:487.01264
Pharmacopeia: In house Spec.
Specifications:Available on request
Packing:Export worthy packing
Material Safety Data Sheet:Available on request