Product Description
Thermal dye ODB-2 CAS number is 89331-94-2, also known as hot (pressure) sensitive black TF-BL3, referred to as Black-2, It is a thermal dye, can be used for thermal copy paper and telephone fax Multiple levels of thermal paper. In the production process of heat sensitive dye ODB-2, four wastewaters will be produced, 1. ODB-2 alkaline wastewater (COD>40000mg/L, pH>12.0, salt>5.0%). 2. ODB-2 acidic wastewater (COD=500-600 mg/L, pH<1.0, sulfuric acid>16%). 3. 4-Dibutylaminoketoic acid (BBA) wastewater (COD>2000mg/L, pH=2.0-3.0, salt>7.0%). 4. Vacuum pump water (COD = 3000-5000 mg / L, pH = 7.0-8.0). The ODB-2 acid waste water in the four waste waters can be neutralized by lime, or adsorbed by activated carbon, and then concentrated and recovered to recover sulfuric acid. BBA wastewater and vacuum pump water are biodegradable, and after proper dilution, biochemical treatment is carried out. ODB-2 alkaline wastewater is the wastewater with the highest organic matter concentration and the lowest biodegradability in the four wastewaters, and the treatment is quite difficult.
There is a method for treating ODB-2 alkaline wastewater, which can effectively remove organic matter, especially the standard for COD content in the industry. The specific method is as follows:
1. Neutralize ODB-2 alkaline wastewater with ODB-2 acidic wastewater to a pH of 3.0 to 6.0.
2, filtration or standing sedimentation for 6 to 10 hours, remove the suspended solids produced by neutralization, the filtrate is diluted with vacuum pump water, the dilution ratio is 1:1 (volume ratio), wherein the COD of the vacuum pump water is 3000-5000 mg / L, pH=7.0-8.0,
3. Supplement the nutrient elements N and P necessary for microbial growth. The mass ratio is generally COD:N:P=100:5:1, and adjust the pH to neutral.
4. Pumping the oxy-aerobic biological treatment system with a metering pump for biological treatment and secondary biochemical treatment to obtain the treated ODB-2 CAS number 89331-94-2alkaline wastewater.

Thera. Category: Colorfomers and sensitives of carbonless and therm paper
Cas No.: 89331-94-2
Synonym: 2-Anilino-6-dibutylamino-3-methylfluoran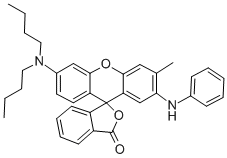 Molecular Formula:C35H36N2O3
Molecular Weight:532.68
Assay: ≥99.%
Packing: Export worthy packing
lMaterial Safety Data Sheet: Available on request