Product Description
Brinzolamide dioxide is a high-level intermediate of Brinzolamide. Its reaction step is long and at least through five steps to get it. There is one feasibility method, with 3-Acetyl-2,5-dichlorothiophene as raw materials, adding sulfite to get the form of sodium sulfite compounds, and then react with 3-methoxy amino propane to get p-aminobenzenesulfonamide compound, then put the compound react with ethylene glycol to get the corresponding compound and then reacting with the organometallic compound, followed by treatment with sulfuric acid followed by treatment with hydroxylamine-O-sulfonic acid to give a sulfadiazine-containing compound and carrying out the oxidative compound Acetyl group, followed by reaction with pyridinium bromide to give an intermediate containing CH2Br. Under basic conditions, the compound containing CH2Br is reacted with the chiral reducing agent (+) - di-3-pinylchloroborane to get the target Compounds.

(4S)-1,1-Dioxide-3,4-Dihydro-4-Hydroxy-2- CAS 154127-42-1 is an important product in our company and it is also a vital intermediate for Brinzolamide. Brinzolamide Intermediate CAS NO 154127-42-1 is white powder which purity is more than 98% with the boiling point of 612.4℃, molecular formula of C10H16N2O6S3 and formula weight of 356.44. As we all known, Brinzolamide, as a carbonic anhydrase inhibitor, is widely used to treatment of open-angle glaucoma or ocular hypertension. We can offer the Brinzolamide with a competitive price.

Thera. Category:Anti- hypertension.
Cas No.:154127-42-1
Synonyms: (4S)-1,1-dioxide-3,4-dihydro-4-hydroxy-2-;(4S)-1,1-dioxide-3,4-dihydro-4-hydroxy-2-(3-methoxypropyl)-2H-Thieno[3,2-e]-1,2-thiazine-6-sulfonamide;(S)-3,4-Dihydro-4-hydroxy-2-(3-methoxypropyl)-2H-thieno[3,2-e]-1,2-thiazine-6-sulfonamide 1,1-dioxide; (S)-2-(3-Methoxypropyl)-3,4-dihydro-2H-thieno[3,2-e][1,2]thiazine-4-ol-6-sulfonaMide-1,1- dioxide
NW: 356.44
M.W.: C10H16N2O6S3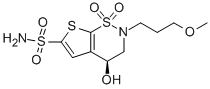 Assay: ≥99%
Packing:Export worthy packing
Material Safety Data Sheet:Available on request
Usage: Intermediate of Brinzolamide