Product Description
In order to offer superior quality Cobicistat Intermediates CAS 154212-59-6 to our customers, we try our best to satisfied with a variety of industry standard and clients requirements. The intermediates of Cobicistat CAS NO 154212-59-6 is pure and less impurity. Cobicistat is a potent inhibitor of cytochrome P450 3A enzymes and CYP3A4 subtype, and apply to treatment of HIV infection. The specification of Cobicistat Intermediates 154212-59-6 is strictly manufactured according to enterprise standard.
Thera. Category: Anti-HIV
Cas No.: 154212-59-6
Synonyms: ((5-thiazolyl)methyl)-(4-nitrophenyl)carbonate hydrochloride;carbonic acid 4-nitrophenyl 5-thiazolylmethyl ester hydrochloride;5-THIAZOLYLMETHYL 4-NITROPHENYLCARBONATE, MONOHYDROCHLORIDE;5-(Thiazolyl)methyl 4-nitrobenzoate hydrochloride;4-Nitrophenyl (thiazol-5-ylMethyl) carbonate hydrochloride
MF: C11H9ClN2O5S

NW: 316.72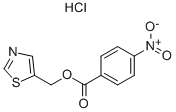 Assay: ≥99%
Packing:Export worthy packing
Material Safety Data Sheet:Available on request
Usage: Cobicistat 1004316-88-4 is a potent inhibitor of cytochrome P450 3A enzymes, including the important CYP3A4 subtype. It also inhibits intestinal transport proteins, increasing the overall absorption of several HIV medications, including atazanavir, darunavir and tenofovir alafenamide.

Related intermediates:
1) ((5-Thiazolyl)Methyl)-(4-Nitrophenyl)carbonate Hydrochloride CAS 154212-59-6
2) (2R,5R)-1,6-Diphenylhexane-2,5-DiaMine Dihydrochloride CAS 1247119-31-8
3) (S)-Ethyl 2-[3-(2-Isopropyl-thiazol-4-ylmethyl)-3-methylureido]-4-morpholin-4-yl-butanoate CAS 1247119-35-2