Product Description
In order to offer high purity Adefovir CAS 106941-25-7, we adopt well-tested ingredients and strictly controlled according to high specification standard. Adefovir CAS NO 106941-25-7 is an acyclic nucleoside phosphonate that acts as a reverse transcriptase inhibitor. Adefovir 106941-25-7 is used for treatment of hepatitis B and herpes simplex virus infection. Adefovir 106941-25-7 is micronized and high in purity. We can offer best service and fast delivery.
Thera. Category: Anti Viral
Cas No.: 106941-25-7
Synonym: 2-(6-amino-9h-purin-9-yl)ethoxy]methylphosphonic acid;9-[2-(PHOSPHONOMETHOXY)ETHYL]ADENINE;9-(2-PHOSPHONYL METHOXY ETHYL) ADENINE;ADEFOVIR;PMEA;((2-(6-amino-9h-purin-9-yl)ethoxy)methyl)-phosphonicaci;9-[2-[bis(pivaloyloxymethoxy)phosphorylmethoxyl]ethyl]adenine;gs0393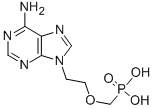 Molecular Weight: 273.19
Molecular formula: C8H12N5O4P
Assay: ≥98.%
Appearance: White Crystalline solid
Packing:Export worthy packing
Material Safety Data Sheet:Available on request
Usage:
Adefovir is a prescription medicine used to treat (chronic) infections with hepatitis B virus. A prodrug form of Adefovir was previously called bis-POM PMEA, with trade names Preveon and Hepsera. It is an orally administered nucleotide analog reverse transcriptase inhibitor (ntRTI). It can be formulated as the pivoxil prodrug adefovir dipivoxil.