Product Description
Avanafil CAS number is 330784-47-9, developed by Japan's Tanabe Mitsubishi Pharmaceuticals Co., Ltd. and VIVUS Corporation. In April 2012, the FDA approved the marketing of avanafil tablets for the treatment of male erectile dysfunction (ED). The only ED drug approved by the FDA that has an onset time of as little as 15 minutes. Avanafil CAS number 330784-47-9 is available in a variety of sizes including 50mg, 100mg and 200mg. Compared with other anti-ED drugs, the biggest advantage of avanafil is that it works quickly and takes 30 minutes to take effect. The rapid onset of avanafil allows ED patients to enjoy romance at any time without having to take the drug too early and without obvious side effects.
Avanafil is a highly selective second generation phosphodiesterase-5 (PDE-5) inhibitor. Studies have shown that Avanafil has a higher selectivity for PDE-5, which greatly reduces the incidence of adverse reactions. It is a more potent and selective PDE-5 inhibitor than sildenafil. Preclinical studies have shown that the side effects of reduced blood pressure when a combination of Avanafil and organic nitric drugs are significantly lower than the corresponding sildenafil. His affinity for other phospho-rumozymes is weak, and these results suggest that the cardiovascular side effects of Avanafil should be weaker than sildenafil. In addition, Avanafil has a weak inhibitory effect on PDE6, so it is likely that there are no side effects of visual impairment caused by other listed drugs.
Phase II and III clinical trials showed that patients taking avanafil or sildenafil had a 60% hardness duration significantly better than placebo. The therapeutic dose of avanafil at the peak time of 50 mg or 100 mg is 20-40 minutes after administration, and the duration is similar to that of sildenafil, but the time at the 200 mg dose is significantly longer than sildenafil, while the Westland The peak reaction time of that non-existence occurs after 60-120 minutes. Therefore, Avanafil is faster than sildenafil and is well tolerated, with no patients withdrawing from the trial due to adverse reactions. The most common side effects are flushing, side effects and safety.

Thera. Category:Anti-ED Drug
Cas No.: 330784-47-9
Synonyms:4-[[(3-Chloro-4-Methoxyphenyl)Methyl] aMino]-2-[(2S)-2-(hydroxyMethyl)-1-pyrrolidinyl]-N-(2-pyriMidinylMethyl)-5-pyriMidinecarboxaMide;4-[(3-Chloro-4-methoxybenzyl)amino]-2-[(2S)-2-(hydroxymethyl)pyrrolidin-1-yl]-N-(pyrimidin-2-ylmethyl)pyrimidine-5-carboxamide;(S)-4-((3-Chloro-4-Methoxybenzyl)aMino)-2-(2-(hydroxyMethyl)pyrrolidin-1-yl)-N-(pyriMidin-2-ylMethyl)pyriMidine-5-carboxaMide;:D03217;pharmaceutical raw material suppliers Avanafil 330784-47-9 high quality lower Prices;Natural Sex Steroid Hormones Avanafil Hormone Powder C23H26ClN7O3 CAS 330784-47-9;Avanafil-d3;Avanafil(TA-1790);
MF: C23H26ClN7O3

NW:483.9506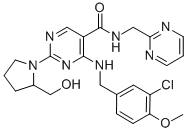 Assay: ≥99%
Packing:Export worthy packing
Material Safety Data Sheet:Available on request
Avanafil CAS 330784-47-9

Avanafil intermediate 3 CAS number 330785-81-4
2-aminomethylpyrimidine hydrochloride CAS 372118-67-7,

3-CHLORO-4-METHOXYBENZYLAMINE HYDROCHLORIDE CAS 41965-95-1