Product Description
Tenofovir Alafenamide Fumarate CAS number is 1392275-56-7, which is an ester prodrug of tenofovir, is an acyclic nucleotide reverse transcriptase inhibitor with broad spectrum antiviral role, it can inhibit HIV-1, HIV-2 reverse transcriptase and HBV polymerase, thereby inhibiting viral replication. Tenofovir Alafenamide Fumarate is hydrolyzed to tenofovir after oral administration. Tenofovir is phosphorylated by cell kinases into the pharmacologically active metabolite tenofovir diphosphate, which competitive with 5'-tris Phosphate deoxyadenosine, involved in the synthesis of viral DNA,after enter into the viral DNA ,due to the lack of 3'-hydroxy induced DNA elongation blocked, thus inhibiting viral replication. Antiviral activity of tenofovir alafenamide fumarate was 10 times higher than that of its similar drug, tenofovir disoproxil, and its stability in plasma was 200 times ,its half-life Which is 220 times higher than that of PBMC, and its accumulation in peripheral blood mononuclear cells (PBMC) is increased by nearly 10 times. Therefore, tenofovir alafenamide fumarate is used for hepatitis B virus and human immunity Prevention and treatment of defective virus infection with better efficacy, higher safety and lower resistance. Currently, tenofovir alafenamide fumarate is a unilateral agent, tenofovir alafenamide fumarate / emtricitabine / Cobicistat / entecavir/darunavir compound preparation are in clinical studies in abroad.
tenofovir alafenamide fumarate CAS number 1392275-56-7, is marketed in the United States for the treatment of HIV infection in adults in 2015 year. It is also used to treat hepatitis B and is currently in phase III clinical practice.

Tenofovir alafenamide hemifumarate, refered as GS-7340, also known as Tenofovir alafenamide fumarate (2:1), Cas number is 1392275-56-7, Molecular formula is C46H62N12O14P2 and Molecular weight is 1069.02, it is a new type of nucleoside reverse transcriptase inhibitor (NRTI), which has been shown to have a very high antiviral effect at doses less than 10% of tenofovir disoproxil fumarate in clinical trials, while improving renal function and bone Parameters. Our product has high purity in more than 99%, the product can be packaged according to customer demand. Product inventory scale are more than 100 grams level.We hereby solemnly declare that the products manufactured by our company are only sold to non-patent protected areas and lab research and development, Otherwise the buyer shall be responsible for patent disputes.
Thera. Category: Anti-HIV
Cas No.: 1392275-56-7
Synonym: (E)-but-2-enedioic acid;propan-2-yl (2S)-2-[[1-(6-aminopurin-9-yl)propan-2-yloxymethyl-phenoxyphosphoryl]amino]propanoate

Molecular FormulaC46H62N12O14P2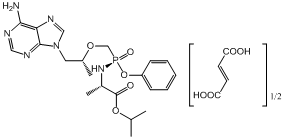 Molecular Weight: 1069.02
Purity: ≥98.%
Packing:Export worthy packing
Material Safety Data Sheet:Available on request
Tenofovir alafenamide, also known as TAF and GS-7340, is a nucleotide reverse transcriptase inhibitor (NRTIs) and a novel prodrug of tenofovir. By blocking reverse transcriptase, TAF prevent HIV from multiplying and can reduce the amount of HIV in the body. Tenofovir alafenamide is a prodrug, which means that it is an inactive drug. In the body, tenofovir alafenamide is converted to tenofovir diphosphate (TFV-DP). Tenofovir alafenamide fumarate was approved in November 2015 for treatment of HIV-1.
Related Intermediate:
1) Phenyl ((((R)-1-(6-amino-9H-purin-9-yl)propan-2-yl)oxy)methyl)phosphonate 379270-35-6
2) GS-7340 intermediate 379270-36-7
3) GS-7340 CAS 379270-37-8

4) Tenofovir alafenamide hemifumarate CAS 1392275-56-7