Product Description
Apixaban CAS number 503612-47-3 which is a novel oral anticoagulant drug that prevents thrombin generation and thrombosis by inhibiting an important factor Xa. Apixaban is considered as a replacement for warfarin. it was the first to approve the prophylaxis of venous thrombosis in adult patients for hip or knee replacement surgery.Apixaban is the third novel oral marketed anticoagulant following dabigatran and rivaroxaban.

Thera. Category: Anticoagulant drug
Cas No.: 503612-47-3
Synonym: BMS 562247-01; BMS 562247-01;1-(4-Methoxy-phenyl)-7-oxo-6-[4-(2-oxo-piperidin-1-yl)-phenyl]-4,5,6,7-tetrahydro-1H-pyrazolo[3,4-c]pyridine-3-carboxylic acid aMide;1-(4-Methoxyphenyl)-7-oxo-6-[4-(2-oxopiperidin-1-yl)phenyl]-4, 5-dihydropyrazolo[3,4-c]pyridine-3-carboxaMide;Nilotinib and its interMediate;Apixaban;

Molecular Formula: C25H25N5O4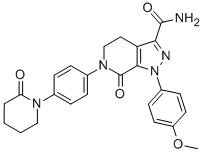 Molecular Weight: 459.504
Purity: ≥98.%
Packing:Export worthy packing
Material Safety Data Sheet:Available on request
Apixaban is a selective inhibitor of activated factor X for oral administration and can prevent blood clots with the side effects of bleeding being lower than the old drug warfarin for being used for the prevention of thrombus for patients who have been subject to hip or knee replacement surgery.