Product Description
Edoxaban tosylate Monohydrate CAS number is 1229194-11-9, developed by Japan Daiichi Sankyo Co., Ltd., was approved by the Ministry of Health and Welfare of Japan on April 22, 2011. The current approved indications are Prevention of venous thromboembolism after major orthopedic surgery, including total knee surgery, total hip joint surgery and hip fracture surgery. In 2012, the first triad company disclosed the results of phase III clinical trials of Edoxaban tosylate Monohydrate for hip replacement patients at the annual meeting of the American Society of Hematology in Orlando, and confirmed that oral The efficacy of Edoxaban tosylate Monohydrate in preventing venous thromboembolism is superior to enoxaparin.
Edoxaban tosylate Monohydrate CAS number 1229194-11-9 is the first oral anticoagulant drug marketed in Japan and was first introduced worldwide. It achieved the purpose of inhibiting thrombosis by selectively, reversibly and directly inhibiting coagulation factor X. Clinical development has proven its good tolerance, oral absorption and anticoagulant activity, and clinical trials in Japan and Taiwan. It was confirmed that Edoxaban tosylate Monohydrate inhibits the efficacy and safety of VTE in patients undergoing lower limb plastic surgery. With the aging of the population and the increase in the incidence of cardiovascular diseases, the demand for anticoagulant drugs is increasing. The direct inhibitor of coagulation factor X is the development trend of anticoagulants. Many of them have been approved for marketing in foreign countries. Benefit more patients. The global market capacity of Factor X inhibitors will increase from approximately $6 billion in 2008 to more than $9 billion in 2014.Edoxaban tosylate Monohydrate CAS 1229194-11-9 is a direct coagulation factor X inhibitor, and coagulation factor X is the main target for the development of a new generation of anticoagulant drugs. His oral administration provides convenience for clinical use; clinical trials have demonstrated that edoxaban is safe and effective against tosylate monohydrate. Therefore,Edoxaban tosylate Monohydrate will have more advantages in the field of anticoagulant drugs and thus obtain more business opportunities.

Edoxaban (tosylate Monohydrate) 1229194-11-9 is a small molecule oral anticoagulant drug that is a clotting factor X (FXa) blocker. During the coagulation process, activated factor X (FXa) activates prothrombin (FII) to become thrombin (FIIa), triggering fibrin formation, thereby forming thrombi. Thus FXa has become a major target point for the development of new generation anticoagulants. Edoxaban has a 104 double higher selectivity for FXa than FIIa , reversible and direct inhibition of FXa to achieve oral thromboprophylaxis. Clinical trials have confirmed that the product can effectively inhibit the patients receiving lower extremity orthopedic surgery complicated with VTE, and safe and reliable.
Thera. Category: Anticoagulant drug
Cas No.: 1229194-11-9
Synonym: edoxaban tosylate hydrate;N1-(5-Chloropyridin-2-yl)-N2-((1S,2R,4S)-4-(dimethylcarbamoyl)-2-(5-methyl-4,5,6,7-tetrahydrothiazolo[5,4-c]pyridine-2-carboxamido)cyclohexyl)oxalamide 4-methylbenzenesulfonate hydrate;Edoxaban Tosylate Hydrate 1; Edoxaban (tosylate Monohydrate);Edoxaban tosilate;Edoxaban p-toluenesulfonate monohydrate;N-(5-Chloropyridin-2-yl)-N'-((1S,2R,4S)-4-[(dimethyl amino)carbonyl]-2-[[(5-methyl-4,5,6,7-tetrahydrothiazolo[5,4-c]pyridin-2-yl)carbonyl]amino]cyclohexyl)ethanediamide p-toluenesulfonate monohydrate;Ethanediamide, N1-(5-chloro-2-pyridinyl)-N2-[(1S,2R,4S)-4-[(dimethylamino)carbonyl]-2-[[(4,5,6,7-tetrahydro-5-methylthiazolo[5,4-c]pyridin-2-yl)carbonyl]amino]cyclohexyl]-, 4-methylbenzenesulfonate, hydrate;

Molecular Formula: C31H40ClN7O8S2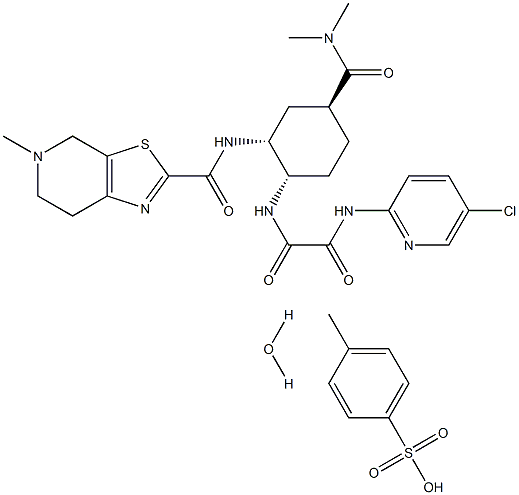 Molecular Weight: 738.2744
Purity: ≥98.%
Packing:Export worthy packing
Material Safety Data Sheet:Available on request
Related product:
Edoxaban (tosylate Monohydrate) 1229194-11-9
Edoxaban 912273-65-5
Edoxaban 480449-70-5
Tert-Butyl(1R,2S,5S)-2-azido-5-[(dimethylamino)carbonyl]cyclohexylcarbamate oxalic acid Cas 1353893-22-7