Product Description
Sitafloxacin CAS number is 127254-10-8, It is a fourth-generation fluoroquinolones,it first marketed in Japan in 2008 for the treatment of severe refractory infectious diseases, there are two dosage forms in 50mg tablets and 10% fine-particle. It can inhibit the bacterial DNA gyrase and topoisomerase IV, and the inhibition of the two enzymes is stronger than that of other quinolones.Sitafloxacin CAS 127254-10-8 has a broad antibacterial spectrum. It not only has antibacterial activity against gram-negative bacteria, but also has strong antibacterial activity against gram-positive bacteria, anaerobes, mycoplasma, chlamydia, etc., and is also common to many clinically-resistant fluoroquinolones. It has good bactericidal effect; showed good medical effect in clinical trials: sitafloxacin for pharyngitis, tonsillitis, acute bronchitis, pneumonia, chronic respiratory secondary infection, cystitis, pyelonephritis, urethritis, Cervicitis, otitis media, sinusitis, periodontal inflammation, pericoronitis, jaw bone inflammation have a good effect.
Sitaxacin has selective toxic effects on bacteria, and has broad antibacterial spectrum, strong antibacterial activity, simple structure, convenient administration, and no cross-resistance with other common antibiotics. IT has the advantages of low industrial production difficulty and ideal curative effect. Compared to similar and cephalosporin antibiotics, sitafloxacin has superior antibacterial activity in vitro than existing quinolone antibiotics; it also has anti-intestinal activity twice that of ciprofloxacin and other antibacterial agents Pathobacterial activity, and its activity is not affected by different media, pH, inoculum or human serum.
Due to the presence of a cis-fluorocyclopropylamine group in the structure of sitafloxacin, it has good pharmacokinetic properties and can reduce adverse reactions. It can be developed for oral administration as well as for injection. It has good oral absorption, bioavailability of more than 70%, tissue distribution is wide, drug concentrations in various tissues outside the central nervous system are higher than the concentration of serum drugs, therefore, sitafloxacin is expected to become the treatment of respiratory tract, urogenital tract, An important drug for single or mixed bacterial infections such as peritoneal cavity and skin soft tissue.

Thera. Category: antibiotic
Cas No.:127254-10-8
Synonyms: SitafloxacinisomerⅢ(RRS);sitafloxacin isomer III(RRS);3-Quinolinecarboxylic acid, 7-[(7R)-7-aMino-5-azaspiro[2.4]hept-5-yl]-8-chloro-6-fluoro-1-[(1R,2S)-2-fluorocyclopropyl]-1,4-dihydro-4-oxo-;7-((R)-7-Amino-5-azaspiro[2.4]heptan-5-yl)-8-chloro-6-fluoro-1-((1R,2S)-2-fluorocyclopropyl)-4;7-[(7R)-7-amino-5-azaspiro[2.4]hept-5-yl]-8-chloro-6-fluoro-1-[(1R,2S)-2-fluoro-cyclopropyl]-1,4-dihydro-4-oxo-Quinolin-3-carboxylic acid;Sitafloxacin Isomer Impurity 7;7-[(4S)-4-Amino-6-azaspiro[2.4]heptan-6-yl]-8-chloro-6-fluoro-1-[(1R,2S)-2-fluorocyclopropyl]-4-oxoquinoline-3-carboxylic acid;Sitafloxacin;
MF:C19H18ClF2N3O3

NW:409.81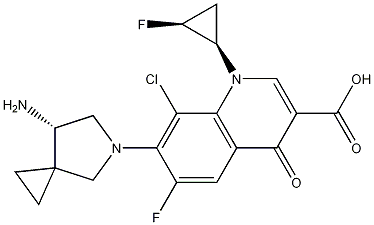 Assay: ≥99%
Packing:Export worthy packing
Material Safety Data Sheet:Available on request
Usage: Use to making Sitafloxacin which is a fluoroquinolone antibiotic that shows promise in the treatment of Buruli ulcer.