Product Description
Bromhexine Hydrochloride 611-75-6 ; Bromhexine HCL CAS 611-75-6 in Stock
In order to fulfill the ever changing demands of our clients, we are engaged in offering high quality Bromhexine Hydrochloride CAS 611-75-6. Bromhexine Hydrochloride 611-75-6 is a synthetic derivative of the herbal active ingredient vasicine. It has been shown to increase the proportion of serous bronchial secretion, making it more easily expectorated. In order to meet the satisfaction of our valuable clients, we offer Bromhexine Hydrochloride CAS NO 611-75-6 in diverse specifications.
Our services:
1. Best quality in your requirement
2. Competitive price in China market
3. mature Technical support
4. Professional logistic support
All we want is win-win business. Send yr. inquiries, you will get it!
Thera. Category:

Antimucolytic

Synonym

:

N-(2-Amino-3,5-dibromobenzyl)-N-methylcyclohexanamine hydrochloride

,

Benzenemethanamine,2-amino-3,5-dibromo-N-cyclohexyl-N-methyl-, monohydrochloride (9CI); Toluene-a,2-diamine,3,5-dibromo-Na-cyclohexyl-Na-methyl-, monohydrochloride (8CI); 2-Amino-3,5-dibromo-N-cyclohexyl-N-methylbenzylamine monohydrochloride; Auxit; Bisolvon; Bisolvon hydrochloride; Bromhexine chloride;

Molecular Formula

:

C

14

H

20

Br

2

N

2

HCL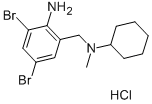 Boiling Point:

441.5 oC at 760 mmHg

Pharmacopeia:

In house Spec.

Specifications

:

Available on request

Packing

:

Export worthy packing

Material Safety Data Sheet

:

Available on request