Product Description
Indacaterol cas number 312753-06-3, a bronchodilator, is a long-acting inhalation of β2 receptor agonists for adult patients with chronic obstructive pulmonary disease (COPD) maintenance therapy. Indacaterol has a 5-minute onset that lasts for 24 hours. Since 2009 it has been in the world more than 70 countries and regions listed. Compared with salmeterol, compared with salmeterol,Indacaterol cas 312753-06-3 can significantly improve the safety and tolerability of moderate and severe adult patients with chronic obstructive pulmonary disease;compared with Tiotropium bromide, Indacaterol improved lung function with the effect of the same in patients, in alleviating breathing difficulties and improve the quality of life is significantly better than tiotropium bromide.
Thera. Category: Breath Problem Treatment
Cas No.: 312753-06-3

Synonym: Indacaterol; Arcapta;5-[2-(5,6-Diethyl-2,3-dihydro-1H-inden-2-ylaMino)-(1R)-hydroxyethyl]-8-hydroxyquinolin-2(1H)-one;2(1H)-Quinolinone,5-[(1R)-2-[(5,6-diethyl-2,3-dihydro-1H-inden-2-yl)amino]-1-hydroxyethyl]-8-hydroxy-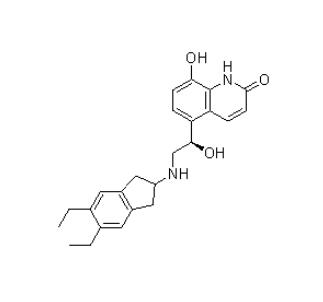 Molecular Formula: C24H28N2O3
Molecular Weight: 392.20999
Assay: ≥99.%
Packing: Export worthy packing
lMaterial Safety Data Sheet: Available on request
Usage:It can treat breathing problems caused by COPD, including chronic bronchitis and emphysema.