Product Description
We,ChinaTegaserod Maleate Suppliers and China 22795-99-9 Tegaserod Maleate Cas No.189188-57-6
Manufacturers with quality you can count on including those with CAS number189188-57-6, You can be assured that all Tegaserod Maleate 189188-57-6 offered by Volsen, meet or exceed the grade requirements or specifications for each individual product.
Thera. Category:

Gastrointestinal Agents

Synonym

:

(2E)-2-[(5-Methoxy-1H-indol-3-yl)methylene]-N-pentylhydrazinecarboximidamide

Molecular Formula

:

C20H27N5O5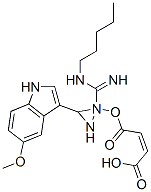 Pharmacopeia:

in house spe.

Specifications

:

Available on request

Packing

:

Export worthy packing

Material Safety Data Sheet

:

Available on request
Usage: 1.A gastroproeinetic use in the treatment of irritable bowel syndrome.
2.A selective serotonin 5HT4-receptor partial agonist
COA Specification of Tegaserod Maleate Cas No.189188-57-6
Items

Specifications

Results

Appearance

A White powder

Conform

Identification

HPLC

IR

Conform

Solubility

Scarcely soluble in water, sparingly soluble in methanol, slightly soluble in ethanol and scarcely soluble in chloroform

Conform

Methanol

≤0.30%

Conform

Melting Point

188.0°C ~193.0°C

188.5°C~190.5°C

Loss on drying

≤0.50%

0.16%

Residual on ignition

≤0.10%

0.07%

Heavy Metals

≤10ppm

Conform

Residual solvent

Ethanol≤5000ppm

Methanol≤3000ppm

Conform

Conform

Related Substances(HPLC)

Single impurity≤0.3%

Total impurities≤1.0%

0.08%

0.13%

Assay(based on drying)

≥99.0

99.3%

Particle size

50%≤70microns

90%≤205microns

Conform

Conform

Conclusion: The product corresponds to the requirements of in house standard.

Storage Condition: Keep container tightly closed in a dry and well-venting place.



Tegaserod is a 5-HT4 agonist manufactured by Novartis and sold under the name Zelnorm for the management of irritable bowel syndrome and constipation.
Mechanism of action
The drug functions as a motility stimulant, achieving its desired therapeutic effects through activation of the 5-HT4 receptors of the enteric nervous system in the gastrointestinal tract. It also stimulates gastrointestinal motility and the peristaltic reflex, and allegedly reduces abdominal pain. Additionally, tegaserod is a 5-HT2B receptor antagonist.