Product Description
Thera. Category:treatment of rheumatoid arthritis
Cas No.:477600-75-2
Synonym:3-((3R,4R)-4-methyl-3-(methyl(7H-pyrrolo[2,3-d]pyrimidin-4-yl)amino)piperidin-1-yl)-3-oxopropanenitrile;CP 690550;3-Piperidinamine, 1-(cyanoacetyl)-4-methyl-N-methyl-N-1H-pyrrolo(2,3-D)pyrimidin-4-yl-, (3R,4R)-;CP-690550(Tasocitinib,CP690550);CP 690550(Tasocitinib);Tasocitinib;3-((3R,4R)-4-Methyl-3-(Me...;Tasocitinib (CP 690550)
Molecular Structure: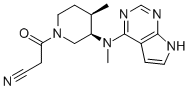 Molecular Formula:C16H20N60
Molecular Weight:312.3696
Purity: ≥99%
Appearance:White solid
Pharmacopeia: in house spe.
Specifications:Available on request
Packing:Export worthy packing
Material Safety Data Sheet:Available on request
Usage:Cell-permeable. A Janus Kinase 3 (JAK3) inhibitor. Displays greater antiproliferative and pro-apoptotic activity against murine multipotent factor-dependent cell Patersen-erythropoietin receptor (FDCP-EpoR) cells harboring JAK2(V617F) compared with JAK2(WT).