Product Description
Volsen, a global manufacturer&supplier of Amisulpride, CAS NO. 71675-85-9 based in China offers for your requirements of R&D quantities or commercials, based on status of the product. We can also offer its related intermediates with supportive technical package required for evaluation.
Thera. Category:Anti-psychotic/ Neuroleptic Agent
Cas No.:71675-85-9
EC No.:275-831-7
Synonym:4-AMINO-N-[(1-ETHYL-2-PYRROLIDINYL)METHYL]-5-(ETHYLSULFONYL)-2-METHOXYBENZAMIDE;AMISULPRIDE;AMINOSULTOPRIDE;DAN-2163;DENIBAN;SOCIAN;SOLIAN;4-amino-n-((1-ethyl-2-pyrrolidinyl)methyl)-5-(ethylsulfonyl)-2-methoxybenzam
Molecular Formula:C17H27N3O4S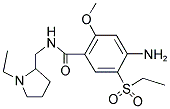 Molecular Weight:369.48
Pharmacopeia: EP 6.0
Specifications:Available on request
Packing:Export worthy packing
Material Safety Data Sheet:Available on request
Amisulpride are anti-psychotic drugs. They`re used to treat psychosis in schizophrenia acute and chronic, at there onset, and over long term where delusions and hallucinations are known as positive symptoms, with the negative symptoms being emotional and social withdrawal. Sometimes people with these symptoms may also feel tense, anxious or depressed.