Product Description
Methylprednisolone CAS Number 83-43-2 has a strong anti-inflammatory and anti-allergic effects, generally applicable to rheumatoid arthritis, collagen disease, allergic diseases, eye diseases, lymphoid leukemia, soft tissue inflammation and hemolysis Anemia and so on. it can also inhibit the virus caused by autoimmune systemic allergic reactions, thereby reducing the inflammation of the lung cell damage, and effective fever. In addition, the urticaria vasculitis have a certain effect. Compared with hydrogenated prednisone, methylprednisolone has more stronger anti-inflammatory effect, Its 4mg anti-inflammatory activity is equivalent to hydrogenated prednisone 5mg. And the cause of sodium retention, dielectric disorders and edema is lighter than prednisone.

Thera. Category: Hormoues Series
Cas No.:83-43-2
Molecular Structure: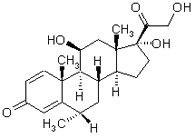 Molecular Formula:C22H30O5
Molecular Weight:374.47
Pharmacopeia: in house spe.
Specifications:Available on request
Packing:Export worthy packing
Material Safety Data Sheet:Available on request
Remark:We can supply following items:
Methylprednisolone CAS 83-43-2
Methylprednisolone Acetate CAS 53-36-1
Methylprednisolone Aceponate CAS 86401-95-8
Methylprednisolone Hemisuccinate CAS2721-95-5
For any special details, welcome to contact us for further information.