Product Description
Methylprednisolone Aceponate cas number 86401-95-8, Molecular formula: C27H36O7, Molecular weight: 472.57,
Vinegar methylprednisolone as a fourth generation of glucocorticoids, with local use when the effect is very good, well tolerated, and side effects of systemic and local is small. Therefore, it is of great significance to further strengthen the research and development of Methylprednisolone Aceponate. Because we routinely produce methylprednisolone, we introduce a manufacturing process with methylprednisolone as raw material. Methylprednisolone and triethyl orthopropionate are esterified in the presence of pyridine p-toluenesulfonate in a mixed solvent of dimethylformamide and benzene to form the corresponding diester (refer as A). A and sodium acetate-acetic acid in methanol aqueous solution, partially hydrolyzed to give the corresponding propionate, and finally acetylation with acetic anhydride and pyridine to give Methylprednisolone Aceponate cas number 86401-95-8. In accordance with this route synthesis,product quality can meet the requirements of the Chinese Pharmacopoeia and related guidelines.

Thera. Category: Hormoues Series
Cas No.:86401-95-8
Molecular Structure: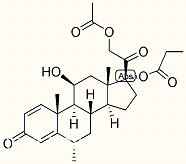 Molecular Formula:C27H36O7
Molecular Weight:472.57
Pharmacopeia: in house spe.
Specifications:Available on request
Packing:Export worthy packing
Material Safety Data Sheet:Available on request
Remark:We can supply following items:
Methylprednisolone CAS 83-43-2
Methylprednisolone Acetate CAS 53-36-1
Methylprednisolone Aceponate CAS 86401-95-8
Methylprednisolone Hemisuccinate CAS2721-95-5
For any special details, welcome to contact us for further information.