Product Description
3,5-Dichloro-4-fluorobromobenzene CAS number is 17318-08-0, is an important chemical intermediate, and its structural carbon bromide bond can be used to further functionalize to form various fluorine-containing products. Used in pesticides and pharmaceuticals. 3,5-Dichloro-4-fluorobromobenzene cas 17318-08-0 is generally prepared by Sandmeyer reaction. First, 3,5-dichloro-4-fluoroaniline is dissolved in water, then water and hydrobromic acid are added, and then sodium nitrite is added. Diazotization to obtain a diazonium salt, and then adding the obtained diazonium salt to an aqueous solution of cuprous bromide and hydrogen bromide, and reacting at a temperature of 30 to 40℃ to obtain 3,5-dichloro-4-fluoro Bromobenzene. Since the electron-withdrawing substituent on 3,5-dichloro-4-fluoroaniline is too much, the obtained diazonium salt is unstable and the reaction yield is low.
There is a method for preparing 3,5-dichloro-4-fluorobromobenzene CAS number 17318-08-0 which is feasible. The general process is as follows: (1) Dissolving 3,5-dichloro-4-fluoroaniline in sulfuric acid to prepare ammonium salt, ammonium, The salt and sodium nitrite aqueous solution are simultaneously input into the tubular reactor to carry out tubular diazotization reaction to obtain a diazonium salt intermediate; (2) the cuprous bromide is dissolved in hydrobromic acid, and the temperature is raised to 100 to 130℃. The diazonium salt intermediate obtained in the step (1) is further added dropwise, and after the reaction is completed, a series of post-treatments are carried out to obtain 3,5-
Dichloro-4-fluorobromobenzene. The feasibility of this method was verified by specific experiments. The specific verification process was as follows: 900g of 3,5-dichloro-4-fluoroaniline and 98% of concentrated sulfuric acid 1350ml were made into ammonium salt, and the obtained ammonium salt and 30% were obtained. 1400g of sodium nitrite aqueous solution was respectively driven into a tubular diazotization reactor with a jacket length of 5m and an inner diameter of 7mm by two metering pumps, and the temperature of the reaction liquid in the jacket was adjusted to 15-20 in the jacket., the reaction solution stayed in the tube for 15s, then directly into a three-necked flask with a stirrer, adding 715g of cuprous bromide, 48% of hydrobromic acid 1000ml, control the reaction temperature between 100 ~ 130℃, the reaction is completed After that, it is cooled and extracted twice with dimethane. The methylene chloride layer is washed with alkali, washed with water and then evaporated to dichloromethane to give crude 3,5-dichloro-4-fluorobromobenzene. Through rectification of the crude product under vacuum to get Pure product of 5-dichloro-4-fluorobromobenzene 915g. After calculation, the yield of this method is 75%, which can basically meet the requirements of industrialization.

Thera. Category: Fluorine-Containing chemical
Cas No.: 17318-08-0
Synonym: 3,5-Dichloro-4-fluorobromobenzene;3,5-dichloro-4-fluorobroMobezene;1-BroMo-3,5-dichloro-4-fluorobenzene;5-BROMO-1,3-DICHLORO-2-FLUOROBENZEN;5-Bromo-1,3-dichloro-2-fluorobenzene;3,5-dichllor-4-fluoro-1-bromobenzene;

Molecular Formula:C6H2BrCl2F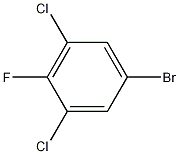 Molecular Weight: 243.8884832
Purity: ≥98.%
Packing:Export worthy packing
Material Safety Data Sheet:Available on request