Product Description
In order to offer high quality Dabrafenib Mesylate CAS 1195768-06-9 to our customers. We processed Dabrafenib Mesylate CAS NO 1195768-06-9 adopt pure raw material and advanced equipment. Dabrafenib (GSK2118436) is a selective, orally bioavailable inhibitor of Mutant B-raf (BRAF) protein kinase with potential antineoplastic activity. It is also a drug the treatment of cancers associated with a mutated version of the gene BRAF. We can accept both customization and mass production. We can offer best service with reasonable price.
l Thera. Category:Anti- cancer
l Cas No.: 1195768-06-9
l Synonym:Dabrafenib Mesylate(GSK-2118436B);Dabrafenib Mesylate;GSK 2118436 Mesylate;GSK 2118436B;GSK2118436 Mesylate;GSK-2118436 Mesylate;Dabrafenib Mesylate (API);GSK 2118436 methanesulfonate salt
l Molecular Formula:C24H24F3N5O5S3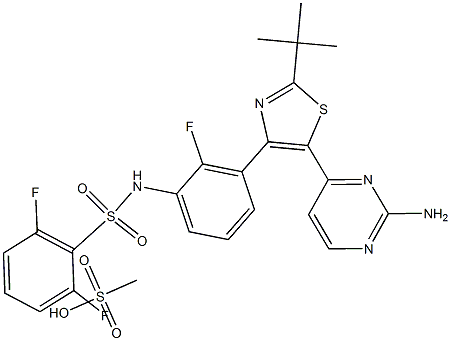 l Molecular Weight:615.6680696
l Assay: ≥97.%
l Packing:Export worthy packing
l Material Safety Data Sheet:Available on request
l Usage: Dabrafenib, also known as GSK2118436, is an orally bioavailable inhibitor of B-raf (BRAF) protein with potential antineoplastic activity. Dabrafenib selectively binds to and inhibits the activity of B-raf, which may inhibit the proliferation of tumor cells which contain a mutated BRAF gene. B-raf belongs to the the raf/mil family of serine/threonine protein kinases and plays a role in regulating the MAP kinase/ERKs signaling pathway, which may be constitutively activated due to BRAF gene mutations. On May 29, 2013, FDA approved this drug.
Related Intermediates :

1. CAS 630-22-8,2,2,2-Trimethylthioacetamide
2. CAS 914223-43-1,3-AMINO-2-FLUOROBENZOIC ACID