Product Description
Efinaconazole oxirane CAS number 127000-90-2, it is a generic compound of triazole antifungal agents, which has a significant effect on the industrialization of triazole antifungal agents such as Efinaconazole. Its synthesis exists long steps, raw materials and catalyst rare and low yield and other unfavorable factors. We use 2,4 - difluorobenzene, aluminum trichloride, 1,2 - dichloroethane as raw materials, ice bath cooling to 0 degrees, dropping 2- (1H - 1,2,4 - triazole - 1 (1H-1,2,4-triazol-1-yl) ethanone (abbreviated as A), A and Nitroethane under the action of the catalyst copper chromic acid base and the promoter benzoic acid, take the asymmetric addition reaction to get the corresponding intermediate, and then by three steps to get the target intermediate. It is to be noted that the most preferred solvent for the asymmetric addition reaction described above is N, N-dimethylacetamide.
Thera. Category: Anti-fungal
Cas No.: 127000-90-2
Synonym: Ravuconazole int-1 1-(((2R,3S)-2-(2,4-difluorophenyl)-3-methyloxiran-2-yl)methyl)-1H-1,2,4-triazole;(2R,3S)-2-(2,4-Difluorophenyl)-3-methyl-2-[(1H-1,2,4-triazole-1-yl)methyl]oxirane;(2R,3S)-2-(; 1. 1-(((2R, 3S)-2-(2,4-difluorophe
Molecular Formula: C12H11F2N3O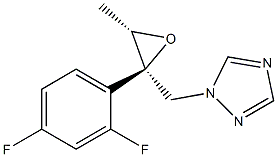 Molecular Weight: 251.2320464
Pharmacopeia: in house spe.
Specifications:Available on request
Packing:Export worthy packing
Material Safety Data Sheet:Available on request
Related Intermediate of Isavuconazole:
1)(2R,3R)-3-(2,5-Difluorophenyl)-3-hydroxy-2-Methyl-4-(1H-1,2,4-triazol-1-yl)thiobutyraMide CAS number 368421-58-3
2) 2-(Methylamino)pyridine-3-methanol cas number 32399-12-5
3)1-(((2R,3S)-2-(2,4-DIFLUOROPHENYL)-3-METHYLOXIRAN-2-YL) METHYL)-1H-1,2,4-TRIAZOLE cas 127000-90-2
4) (2R,3R)-2-(2,4-difluorophenyl)-1-(1H-1,2,4-triazol-1-yl)butane-2,3-diol CAS133775-25-4