Product Description
AZD 3759 CAS 1626387-80-1, also called AZD3759 and AZD-3759, is oral, potent and brain-penetrant, EGFR tyrosine kinase inhibitor with potential antineoplastic activity. AZD 3759 CAS NO 1626387-80-1 is off-white powder with the purity by HPLC more than 99%. Backed by professional team, we are able to offer mass quantity AZD 3759 CAS 1626387-80-1 in limited time, and assure its quality is the best in the market. We are reputable AZD 3759 supplier who you can trusted.
Thera Category: EGFR Inhibitor
Cas No.: 1626387-80-1
Synonym: AZD 3759;AZD3759;AZD-3759;(2R)-2,4-Dimethyl-1-piperazinecarboxylic acid 4-[(3-chloro-2-fluorophenyl)amino]-7-methoxy-6-quinazolinyl ester;HY-18750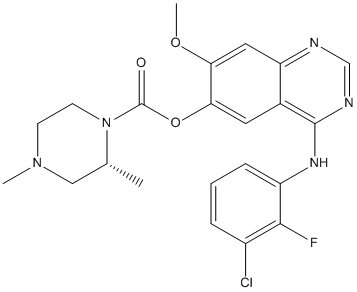 Molecular Formula: C₂₂H₂₃ClFN₅O₃
Molecular Weight: 459.9
Purity: NLT98%
Appearance: Crystalline solid
Specifications: Available on request
Packing:Export worthy packing
Material Safety Data Sheet:Available on request
Usage: AZD-3759 1626387-80-1 is a potent epidermal growth factor receptor (EGFR) inhibitor, with potential antineoplastic activity. AZD-3759 binds to and inhibits the activity of EGFR as well as certain mutant forms of EGFR. This prevents EGFR-mediated signaling, and may lead to both induction of cell death and inhibition of tumor growth in EGFR-overexpressing cells.