Product Description
Ferric Carboxymaltose CAS number is 9007-72-1, which is developed by Swiss Vifor, first listed in Germany in 2007, listed in the UK in May of the following year, the trade name Ferinject, for oral iron is invalid or can not use oral iron Treatment of iron deficiency anemia. As of the end of 2014, Ferric Carboxymaltose injection has been registered in 63 countries including many European countries and the United States, Australia, Argentina, South Korea, Singapore, and listed in 54 countries. Ferric Carboxymaltose CAS 9007-72-1 is a colloidal iron (III) hydroxide complexed with carboxy maltose, an iron-releasing glycopolymer. It was the first FDA-approved non-dextran intravenous iron, an alternative to intravenous dextran iron. Compared with iron dextran, Ferric Carboxymaltose does not cause glucan antibody reaction, no allergic reaction; compared with sodium gluconate iron, sucrose iron, there is no clinical use of dose and time limit, more convenient to use, patient's Higher compliance is the preferred drug in iron supplements.
In the Ferric Carboxymaltose injection, iron complexes with the carbohydrate polymer in a stable ferric iron state to release available iron to the body ferritin and transferrin. Clinical studies have shown that the hematologic response and iron reserve supplementation after intravenous administration of carboxymaltose iron is faster than oral control drugs. Ferric Carboxymaltose has been approved worldwide for the treatment of iron deficiency anemia in which oral iron is ineffective or cannot be treated with oral iron. At present, a number of clinical efficacy and safety studies have been carried out on this product, involving the need to use intravenous iron to correct different areas of iron deficiency anemia, including gastroenterology, gynecology, and nephrology. In a key study supporting the efficacy and safety of carboxymaltose iron, all major and minor therapeutic response parameters confirmed that treatment with carboxymalt iron was effective in treating iron deficiency anemia caused by various causes.
In the preparation process, the molecular weight and distribution of the Ferric Carboxymaltose are greatly different due to the different control of the reaction parameters. At present, the standard substance used in the method for determining the molecular weight of the polymer polysaccharide is often different from the chemical structure of the substance to be tested, and whether the molecular weight range of the standard substance can completely cover the molecular weight range of the sample to be tested. The relative standard curve thus established is the relative molecular weight. Under the influence of the above conditions, the measured result has a large error with the actual molecular weight of the substance. Therefore, there is a need to establish an assay method for the extremely high molecular weight distribution of carboxy maltose iron suitable for industrial production. GPC-LAS combined technology has the characteristics of GPC method and laser light scattering method. It can directly and quickly and accurately measure the weight average molecular weight and molecular weight distribution of carboxyl malt iron without using standard materials to make standard curve.
Thera. Category: Iron Deficiency Anemia Treatment
Cas No.: 9007-72-1
Synonyms:Ferinject;Ferric carboxymaltose;Injectafer;Iron Dextri-Maltose
MF: C39H63FeO39

NW: 1211.73912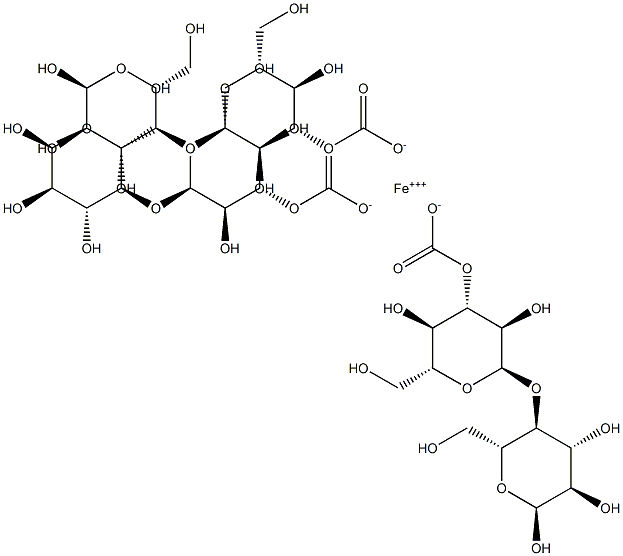 Assay: ≥99%
Packing:Export worthy packing
Material Safety Data Sheet:Available on request