Product Description
Flumethasone Pivalate cas number 2002-29-1, Its main use and efficacy similar to flumethasone, are corticosteroid anti-inflammatory drugs. Long-term use may cause the following side effects: weight gain, lower extremity edema, purple pattern, easy bleeding tendency, wound healing, acne, menstrual disorders, brachial or avascular necrosis of the femoral head, child growth is inhibited, glaucoma, cataract , Benign intracranial hypertension syndrome, impaired glucose tolerance and increased diabetes. or the patient may appear psychiatric symptoms like excitement, anxiety, orientation disorder, can also be expressed as inhibition.or with fungi, tuberculosis, staphylococcus, Proteus, Pseudomonas aeruginosa and a variety of herpes virus-based concurrent infection.Or glucocorticoid withdrawal syndrome. Sometimes the patient appear fainting tendency, abdominal pain or back pain and other symptoms after dizziness, after careful examination if the exclusion of adrenal insufficiency and the original disease of the revitalization, can be considered to be dependent on glucocorticoid syndrome. Most of these side effects can be relieved after withdrawal.
Flumethasone Pivalate CAS 2002-29-1 is as known as Flumethasone 21-Pivalate which is manufactured to the highest quality standards. To receive a price quote on Flumethasone 21-Pivalate , please provide us with the quantity and purity percentage of the compound. You can also contact us by phone at 0086-576-88869393. Alternatively, you can email us and we will happy to meet your Steroids Compound requirements.
Thera. Category:
Hormoues Series
Cas No.:2002-29-1
Synonym:FLUMETHASONE PIVALATE;6a,9a-difluoro-16a-methyl-prednisolone-21-pivalate;6ALPHA,9-DIFLUORO-11BETA,17,21-TRIHYDROXY-16ALPHA-METHYLPREGNA-1,4-DIENE-3,20-DIONE 21-[2,2-DIMETHYLPROPIONATE];21-pivalate;locacorten;locorten;pregna-1,4-diene-3,20-dione,6-alpha,9-difluoro-11-beta,17,21-trihydroxy-16-alp;flumethasone 21-pivalate;
Molecular Structure: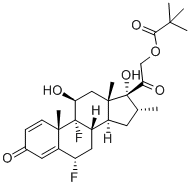 Molecular Formula:C27H36F2O6
Molecular Weight:494.57
Pharmacopeia: in house spe.
Specifications:Available on request
Packing:Export worthy packing
Material Safety Data Sheet:Available on request