Product Description
Glycerol Trienanthate cas number 620-67-7 which is treated for type 1 glucose transporter syndrome (G1D).
G1D often appears as epilepsy and EEG spikes. Currently used for G1D epilepsy diet therapy, can only reduce the 2/3 of patients with dyskinesia or seizures, and is not generally tolerated. Studies have shown that, in contrast to ketogenic dietary treatments, nutrients such as Glycerol Trienanthate 620-67-7 may complement the intermediates of TCA (tricarboxylic acid cycle) by covering reaction and thus work.
Researchers have conducted a clinical study of non-commercial, open-label series, and evaluated the treatment of Glycerol Trienanthate . A total of 14 children with G1D and adults who did not receive ketogenic diet were included in the study. Intervention means to supplement the food grade glycerol triheptanoate in the diet of the subject. The results suggest that triglyceride can have a beneficial effect on the major neurological function of G1D patients. In addition, the observed observational indicators can constitute an important framework for assessing the treatment of metabolic encephalopathy (intermediate metabolic disorders).

Thera. Category: organic compound
Cas No.: 620-67-7
Synonyms:TRIHEPTANOIN;TRIOENANTHIN;glyceroltriheptanoate;Glycerol-triheptanoate-;Glyceroltriheptanoate,1,2,3-propanetriylester;heptanoicacid,1,2,3-propanetriylester;GLYCERYL TRIHEPTANOATE;GLYCEROL TRIOENANTHATE;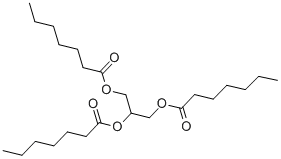 Molecular Formula:C24H44O6

Molecular Weight:428.6
Purity:≥98%
Packing: Export worthy packing
Material Safety Data Sheet: Available on request