Product Description
Naloxone hydrochloride cas number 357-08-4, a white crystalline or crystalline powder which is easily soluble in water, soluble in methanol, and almost insoluble in chloroform or diethyl ether.Naloxone is a pure opioid receptor antagonist and has no intrinsic activity. However, it can competitively antagonize various opioid receptors and has a strong affinity for mu receptors. Naloxone is effective and has strong antagonistic effects. Naloxone simultaneously reverses all effects of opioid agonists, including analgesia. In addition, it has a rejuvenating effect that is not associated with antagonistic opioid receptors. It can quickly reverse the respiratory depression caused by opioid analgesics, which can cause high excitement and hyperactivity of cardiovascular function. This product still has anti-shock effect. No dependence, withdrawal symptoms, and respiratory depression.
Naloxone hydrochloride cas number 357-08-4 is widely used in anesthesia, shock, alcoholism, cerebral infarction, cardiac arrest and respiratory depression.
The clinical indications of naloxone hydrochloride are acute poisoning of anesthetic analgesics and acute alcohol poisoning. It is preferred for respiratory depression and coma caused by known or suspected opioid overdose. It can also be used in opioids. Differential diagnosis of drug addicts. Naloxone hydrochloride is currently the most widely used opioid receptor antagonist.

Thera. Category:Opioid Antagonist
Cas No.: 357-08-4
Synonym: NALOXONE HCL;NALOXONE HYDROCHLORIDE;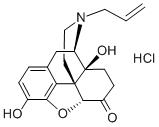 Molecular Formula:C19H22ClNO4
Molecular Weight: 363.84
Assay: ≥99.%
Packing: Export worthy packing
lMaterial Safety Data Sheet: Available on request