Product Description
Owing to our expertise in this domain, we can offer a range of high quality Fingolimod Hydrochloride CAS 162359-56-0. Fingolimod Hydrochloride 162359-56-0 is a novel immune modulator that widely used to treat multiple sclerosis. We can offer Fingolimod Hydrochloride CAS NO 162359-56-0 range from gram to kilogram grade. Customer can avail this range according to their requirements. We also can provide different packaging to meet customers needs.
Thera. Category: Treating multiple sclerosis
Cas No.: 162359-56-0
Synonym: FY720;FTY720;Gilenya;FTY-720A;FTY720 . HCl;Fingolimod HCl;FTY720 B-0720;Unii-G926ec510t;FingoliMod FTY120;FTY720(Fingolimod)
Molecular Formula: C19H34ClNO2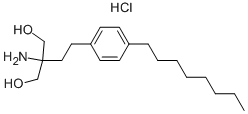 Molecular Weight:V343.93
Pharmacopeia: In house Spec.
Specifications:Available on request
Packing:Export worthy packing
Material Safety Data Sheet:Available on request