Product Description
Hydrocortisone 21-Hemisuccinate cas number 2203-97-6, corticosteroid drugs, the role is similar with cortisone acetate. The reaction was carried out for 24 h with hydrocortisone as the raw material and pyridine as the catalyst and solvent. The yield of Hydrocortisone 21-Hemisuccinate was 79%. According to the literature, we first use Et3N as catalyst, THF as solvent, 25 ℃ reaction 3.5 h. After several trials did not reach the yield of 95% as reported said. Later, we combined with the actual encountered problems. Use DMAP as a catalyst ,use pyridine and ethyl acetate as a mixed solvent, react for 4 h, the yield is 94.8%, the quality conform to USP23 version. This synthesis method is higher than that of using DMAP as catalyst and tetrahydrofuran as solvent. Hydrocortisone 21-Hemisuccinate cas 2203-97-6is as known as Hydrocortisone Hemisuccinate which is manufactured to the highest quality standards. To receive a price quote on Hydrocortisone Hemisuccinate, please provide us with the quantity and purity percentage of the compound. You can also contact us by phone at 0086-576-88869393. Alternatively, you can email us and we will happy to meet your Steroids Compound requirements.
Thera. Category:
Hormoues Series
Cas No.:2203-97-6
Synonym:CORTISOL HEMISUCCINATE;4-PREGNEN-11-BETA, 17,21-TRIOL-3,20-DIONE 21-HEMISUCCINATE;4-PREGNEN-11BETA,17ALPHA,21-TRIOL-3,20-DIONE 21-HEMISUCCINATE;HYDROCORTISONE HEMISUCCINATE;HYDROCORTISONE 21-HEMISUCCINATE;HYDROCORTISONE SUCCINATE;HYDROCORTISONE HYDROGEN SUCCINATE;CORTISOL 21-HEMISUCCINATE;
Molecular Structure: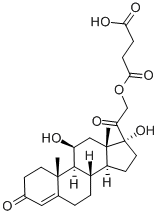 Molecular Formula:C25H34O8
Molecular Weight:462.53
Pharmacopeia: in house spe.
Specifications:Available on request
Packing:Export worthy packing
Material Safety Data Sheet:Available on request