Product Description
The minus two intermediate of ibrutinib, which referred to as Ibrutinib N-2, is a light brown solid whose CAS NUMBER is 330786-24-8 has the molecular formula of C17H13N5O and molecular weight of 303.31802. The current scale of production has reached too hundreds kilograms scale, price is very competitive in commercial quantity, we have been established strategic cooperation with our raw material suppliers,thus our cost of raw materials is lower than others, and further to get more competitivenes in market. Choose us will enable you to get more benefits.
Thera. Category: Anti-cancer
Cas No.: 330786-24-8
Synonym: 5-(4-phenoxyphenyl)-7H-pyrrolo[2,3-d]pyriMidin-4-ylaMine;3-(4-phenoxyphenyl)-1H-pyrazolo[3,4-d]pyriMidin-4-aMine;4-aMino-3-(4-phenoxyphenyl)-1H-pyrazolo[3,4-d]pyriMidine;5-(4-Phenoxyphenyl)-7H-pyrrolo[2,3-d]pyriMidin-4-aMine;ibrutinib N-2;1H-Pyrazolo[3,4-d]pyriMidin-4-aMine, 3-(4-phenoxyphenyl)-;Ibrutinib intermeidate N-2;Ibrutinib INT1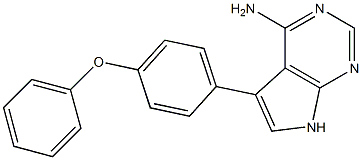 Molecular Formula: C17H13N5O
Molecular Weight: 303.31802
Assay: ≥99.%
Packing: Export worthy packing
lMaterial Safety Data Sheet: Available on request
Usage: Ibrutinib is a kind of Bruton tyrosine kinase (BTK) inhibitor, it could be used for the treatment of chronic lymphocytic leukemia (CLL) and mantle cell lymphoma (MCL).