Product Description
Pikamilone 34562-97-5 is a new type of intelligent improvement drug. In order to provide the necessary reference for clinical application, the researchers carried out the relevant animal experiments to detect the impact of Pikamilone on the cardiovascular system, respiratory system and nervous system at different time points before and after administration. The results showed no effect on blood pressure, ECG and respiratory system after administration.Fitness plastic muscle supplements containing Pikamilone 34562-97-5,Pikamilone is a popular prescription drug in Russia and Japan for the treatment of psychiatric disorders such as anxiety disorders However, since 2013, New Zealand has banned and cracked down on the import of such drugs, and illicit sales of Class B drugs will face up to 14 years' imprisonment.Although the sale of these products are legitimate areas, but the amount of stimulants are often excessive, and consumers do not know their own health care products in the end containing the number of excessive drugs
New Zealand is currently banned from adding to fitness supplementsIf You have any objection to our services. Please feel free to tell us. Your valuable advice will be the direction we are trying to correct.Many products to fill the gaps at the same time will also become a leader in the field of new product development and market development.
We establish a solid relationship of cooperation with a number of domestic research institutions and universities to , carried out a variety of pragmatic research and development cooperation.

Thera. Cat
egory: Intelligent improvement drug
Cas No.: 34562-97-5
Synonyms: 4-(NICOTINAMIDO)BUTANOIC ACID;4-Nicotinoylamino-butyric acid;PIKAMILON;Pikamiline;Pikamilone;PikamiloneHCl;PICAMILON BASE;NICOTINOYL-GABA;PIKAMILONE HYDROCHLORIDE;Pikamilone sodium sale;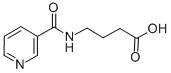 Molecular Formula:C10H12N2O3

Molecular Weight:208.21
Purity: ≥98%
Packing: Export worthy packing
Material Safety Data Sheet: Available on request