Product Description
Ixazomib Citrate CAS 1239908-20-3, also called MLN9708 is white powder with the purity by HPLC more than 99.5%. Ixazomib Citrate CAS NO 1239908-20-3 has the molecular formula of C20H23BCl2N2O9 and formula weight of 517.12, which single impurity is not more than 0.15%, the total impurity below 0.5%, and the loss on dry less than 0.2%. The manner of packing is different according to the the quantity of order, for example the small order use glass bottles. Generally speaking, we have hundreds of gram inventory.
Thera. Category: Anti-cancer
Cas No.: 1239908-20-3
Synonym: Ixazomib Citrate;1,3,2-Dioxaborolane-4,4-diacetic acid,2-((1R)-1-((2-((2,5-dichlorobenzoyl)amino)acetyl)amino)-3-methylbutyl)-5-oxo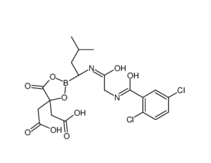 Molecular Formula: C20H23BCl2N2O9
Molecular Weight: 517.12200
Assay: ≥99.%
Packing: Export worthy packing
lMaterial Safety Data Sheet: Available on request
Usage:
MLN9708 CAS 1201902-80-8 is a selective, potent, and reversible proteasome inhibitor.
1) Ixazomib 1201902-80-8
2) Ixazomib Citrate (MLN9708) CAS 1239908-20-3
3) Ixazomib(MLN-2238; MLN 2238; MLN2238) CAS 1072833-77-2