Product Description
Tofacitinib citrate CAS Number is 540737-29-9, which is a novel oral JAK pathway inhibitor developed by Pfizer. Unlike most other current rheumatoid arthritis treatments that act primarily on extracellular targets, tofacitinib citrate targets the intracellular signal transduction pathway and acts on the core of the cytokine network. The inhibitory intensity of tofacitinib citrate on JAK3 is 5 to 100 times than JAK1 and JAK2. It is the pioneer of the development of rheumatoid arthritis treatment, and studies have shown that Tofacitinib citrate has a good treatment for a variety of inflammation-related diseases such as rheumatoid arthritis, ulcerative colitis, and psoriasis. On November 6, 2012, the FDA approved the JAK inhibitor tofacitinib citrate for the treatment of patients with moderate to severe rheumatoid arthritis who were active in adults and who did not respond well to methotrexate.
Pfizer's new drug, tofacitinib citrate CAS Number 540737-29-9, can be used by the FDA to treat patients with moderate to severe rheumatoid arthritis who are unable to benefit from the conventional oral medication methotrexate or who cannot tolerate treatment. Tofacitinib citrate can be used alone or in combination with methotrexate and other specific standard treatments. The FDA approved a dose of 5 mg twice a day for tofacitinib citrate.

Thera. Category:Treatment of rheumatoid arthritis
Cas No.:540737-29-9
Synonym: (3R,4R)-1-(Cyanoacetyl)-4-methyl-N-methyl-N-1H-pyrrolo[2,3-d]pyrimidin-4-yl-3-piperidinamine 2-hydroxy-1,2,3-propanetricarboxylate; CP 690500-10; CP 690550-10; (3R,4R)-4-Methyl-3-(methyl-7H-pyrrolo[2,3-d]pyrimidin-4-ylamino)-beta-oxo-1-piperidinepropanenitrile 2-Hydroxy-1,2,3-propanetricarboxylate
Molecular Structure: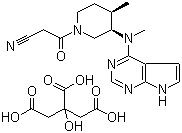 Molecular Formula: C16H20N6O.C6H8O7
Molecular Weight:504.50
Purity: ≥99%
Appearance:White solid
Pharmacopeia: in house spe.
Specifications:Available on request
Packing:Export worthy packing
Material Safety Data Sheet:Available on request
Usage:Cell-permeable. A Janus Kinase 3 (JAK3) inhibitor. Displays greater antiproliferative and pro-apoptotic activity against murine multipotent factor-dependent cell Patersen-erythropoietin receptor (FDCP-EpoR) cells harboring JAK2(V617F) compared with JAK2(WT).