Product Description
The fourth step of linezolid is also known as linezolid N-4. CAS number is 168828-82-8, Molecular formula C14H17FN2O4. At present, the market demand for linezolid N-4 is very small, and most customers will buy his next intermediate.From the current market trend, The possibility of the future procurement of linezolid N-4 will more and more bigger. So we decided to put a certain amount of manpower and resources to study his technology. In the early literature, aryl amide and benzyl chloroformate were used as raw materials to form amide compound N-benzyloxycarbonyl-3-fluoro-4-morpholinoaniline, and then reacted with n-butyllithium and (R) - Buttric acid glycidyl ester to get the target product linezolid N-4 CAS number 168828-82-8, the biggest drawback of this route is the resulting impurities are too high and in the latter part of the reaction process is also difficult to control, and ultimately affect the linezolid products quality. Many of the follow-up reports in the literature, mostly of them improve on the basis of this literature. The core idea of our synthetic process is to decompose the relevant intermediates in the ammonia-methanol system and split them in the resolving reagent to give the target compound.
Thera. Category: Anti-fungal
Cas No.: 168828-82-8
Synonym:(5R)-3-[3-FLUORO-4-(4-MORPHOLINYL)PHENYL]-5-(HYDROXYMETHYL)-2-OXAZOLIDINONE;2-Oxazolidinone, 3-[3-fluoro-4-(4-morpholinyl)phenyl]-5-(hydroxymethyl)-, (5R)-;3-(3-FLUORO-4-(4-MORPHOLINYL)PHENYL)-5-HYDROXYMETHYL-(5R)-2-OXAZOLIDIONE;2-Oxazolidinone,3-[3-fluoro-4-(4-morpholinyl)phen;R)-5-(Hydroxymethyl)-3-(3-fluoro-4-morpholinopheny;(5R)-3-[3-Fluoro-4-(4-morpholinyl)phenyl]-5-(hydroxymethyl)-2-oxazolindinone
Molecular Formula: C14H17FN2O4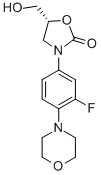 Molecular Weight: 296.3
Pharmacopeia: in house spe.
Specifications:Available on request
Packing:Export worthy packing
Material Safety Data Sheet:Available on request
Related intermediate of Linezolid:
1) (5R)-3-(3-Fluoro-4-(4-morpholinyl)phenyl)-5-hydroxymethyl-2-oxazolidione CAS 168828-82-8
2) (R)-[3-(3-Fluoro-4-morpholinophenyl)-2-oxo-5-oxazolidinyl]methyl methanesulfonate CAS 174649-09-3