Product Description
LY2835219 Intermediate 6 CAS number is 1231930-37-2, Molecular formula C17H24BFN2O2, Molecular weight 318.1940632. If we use our homemade intermediate N- (2,6-difluoro-4-bromophenyl) -N-isopropyl-acetamidine (referred it as A) as the raw material, only two steps to get the target product. The specific process is as follows: A in the presence of potassium t-butoxide take substituted cyclization reaction to generate the corresponding benzimidazole derivatives, the benzimidazole derivatives and double diphenooleic acid ester in the presence of acetate and tricyclohexyl phosphorus to form a boronic acid ester compound of the benzimidazole derivative which is the target product. The above-mentioned starting material A is self-made, and if the outsourcing is more expensive, if considered the manufacturing process of A , the whole reaction step is relatively long. In the above-mentioned reaction process, the precious metal palladium catalyst and other special ligands are used in many places, so that the manufacturing cost is difficult to control. Therefore, it is of great practical significance to develop a simple and high quality process.

Thera. Category: Anti -cancer

Cas No.:1231930-25-8
Synonym:Piperazine, 1-[(6-broMo-3-pyridinyl)Methyl]-4-ethyl-;1-[(6-bromo-3-pyridinyl)methyl]-4-ethylPiperazine;1-((6-bromopyridin-3-yl)methyl)-4-ethylpiperazine;1-[(6-broMo-3-pyridinyl)Methyl]-4-ethyl-;
Molecular Formula:C17H24BFN2O2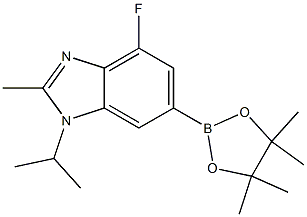 Molecular Weight: 318.1940632
Pharmacopeia: In house Spec.
Specifications:Available on request
Packing:Export worthy packing
Material Safety Data Sheet:Available on request
Related Intermediates :
1-[(6-bromo-3-pyridinyl) methyl] -4-ethylPiperazine,cas 1231930-25-8
6-bromo-1-isopropyl-2-methyl-1H-benzo [d] imidazole CAS number 1038408-36-4
6-Bromo-4-fluoro-1-isopropyl-2-methyl-1H-benzo[d]imidazole cas 1231930-33-8
CAS 1231930-37-2,1H-BenziMidazole, 4-fluoro-2-Methyl-1-(1-Methylethyl)-6-(4,4,5,5-tetraMethyl-1,3,2-dioxaborolan-2-yl)-