Product Description
Simeprevir Sodium CAS 1241946-89-3, also referred as TMC 435 Sodium Salt, is a hot sale in our firm. We can offer gram grade to kilogram grade of Simeprevir Sodium CAS NO 1241946-89-3 according to customers requirement. Simeprevir mainly function is application in chronic hepatitis C infection. We can offer proper package and fast delivery.
Thera. Category: Anti-Viral
Cas No.: 1241946-89-3
Synonym: Simeprevir sodium, Sovriad, TMC 435 Sodium, TMC 435 Sodium salt, Unii-16u7h60184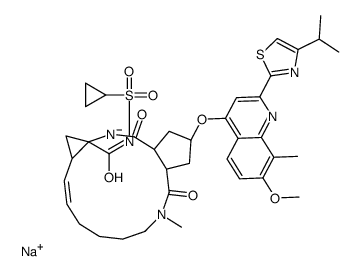 Molecular Formula: C38H46N5NaO7S2
Molecular Weight : 771.921
Pharmacopeia: in house spe.
Specifications: Available on request
Packing: Export worthy packing
Material Safety Data Sheet: Available on request
Related Simeprevir Intermediates:
0) Simeprevir sodium
1) 746657-36-3, Cyclopropanecarboxylic Acid
2) 923604-56-2, (1R,2S)-2-Ethenyl-1-[[[(1R,2R,4R)-2-[(5-hexen-1-ylmethylamino)carbonyl]-4-[[7-methoxy-8-methyl-2-[4-Isopropyl-thiazol-2-yl]-quinolin-4-yl]oxy]cyclopentyl]carbonyl]amino]cyclopropane-carboxylic acid ethyl este
3) 923604-57-3, (2R,3aR,10Z,11aS,12aR,14aR)-2,3,3a,4,5,6,7,8,9,11a,12,13,14,14a-Tetradecahydro-2-[[7-methoxy-8-methyl-2-[4-(1-methylethyl)-2-thiazolyl]-4-quinolinyl]oxy]-5-methyl-4,14-dioxocyclopenta[c]cyclopropa[g][1,6]diazacyclotetradecine-12a(1H)-carboxylic acid ethyl ester
4) 923604-59-5, (2R,3aR,10Z,11aS,12aR,14aR)-N-(Cyclopropylsulfonyl)-2,3,3a,4,5,6,7,8,9,11a,12,13,14,14a-tetradecahydro-2-[[7-methoxy-8-methyl-2-[4-(1-methylethyl)-2-thiazolyl]-4-quinolinyl]oxy]-5-methyl-4,14-dioxocyclopenta[c]cyclopropa[g][1,6]diazacyclotetradecine-12a(1H)-carboxamide
5) 1042695-87-3, (1R,2R,4S)-2-[(5-hexen-1-ylmethylamino)carbonyl]-4-[[7-methoxy-8- methyl- 2-[4-(1-isopropyl)-2-thiazolyl]-4-quinolinyl]oxy]- Cyclopentanecarboxylic acid methyl ester