Product Description
Ramelteon CAS 196597-26-9 is an important product in our company which is a melatonin MT1/MT2 receptor (MEL-1A-R/MEL-1B-R) agonist. Ramelteon CAS NO 196597-26-9 is widely used an orally active hypnotic agents. Clinical trails show Ramelteon 196597-26-9 is also a high effective antiinsomnia agents, particularly delayed sleep onset. Customers can avail this property according to their requirements.
Ramelteon cas number is 196597-26-9,which is a safe and effective new anti-insomnia drug. Compared to that agonize the GABAA receptor, Ramelteon acts through agonistic melatonin receptors with few central nervous system side effects. Recent studies have found that melatonin receptor may be an important target for the treatment of cerebral ischemic drugs. The affinity of Ramelteon and melatonin receptor is 17 times higher than that of melatonin itself, but Ramelteon Whether or not there is potential anti-cerebral ischemia is not clear, and no related studies and reports on the treatment of ischemic stroke or cerebral infarction have been seen so far. In addition, cerebral ischemic injury includes acute ischemic stroke and neurological dysfunction after chronic cerebral infarction. Clinically, the treatment options for these two diseases are often quite different. For acute cerebral ischemia, it is mainly to control the volume of cerebral infarction. And the main cause of chronic cerebral infarction is to promote functional recovery. Therefore, in-depth disclosure of the effective therapeutic dose of Ramelteon for these two types of diseases and the precise administration time window, and to clarify its specific pharmacodynamic mechanism, will help promote the use of Ramelteon for the treatment of ischemic brain injury. The new indications also provide new ways and strategies for the prevention and treatment of ischemic brain injury.
There is also a new therapeutic use of Ramelteon - anti-ischemic brain damage. By constructing the animal's cerebral ischemia model, using traditional pharmacology and molecular biology methods, it was confirmed from the whole, cellular and molecular levels that Ramelteon has significant anti-permanent cerebral ischemia effect and proposed to use it. The gold administration time window for treatment of acute ischemic stroke is within 6 hours after onset. In addition, for the recovery of neurological function in the late stage of cerebral ischemia, Ramelteon also showed a significant improvement effect. These phenomena suggest that Ramelteon has a prominent therapeutic effect on acute or chronic cerebral ischemic injury.
Thera. Category: Anti-Insomnia
Cas No.:196597-26-9
Synonyms: RAMELTEON;rac N-[-[(8S)-1,6,7,8-Tetrahydro-2H-indeno[5,4-b]furan-8-yl]ethyl]propanamide;rac Ramelteon;rac Rozerem;TAK-375;RAMELTEON(FORR&DONLY);(S)-N-[2-(1,6,7,8-Tetrahydro-2H-indeno-[5,4-b]furan-8-yl)ethyl]propionamide;N-[-[(8S)-1,6,7,8-Tetrahydro-2H-indeno[5,4-β]furan-8-yl]ethyl]propanamide
MF: C16H21NO2

NW: 259.34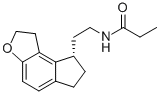 Assay: ≥99%
Packing:Export worthy packing
Material Safety Data Sheet:Available on request
Usage: Ramelteon 196597-26-9 is the first in a new class of sleep agents that selectively binds to the MT1 and MT2 receptors in the suprachiasmatic nucleus (SCN), instead of binding to GABAA receptors,