Product Description
Pimaricin CAS 7681-93-8 Appearance:White or almost white crystalline powder
Purity: >98%. Molecular Formula:C33H47NO13. MW: 665.73
Antifungal Inhibitor Pimaricin 7681-93-8 is a drug which used to treat fungal keratitis, an infection of the eye.
Pimaricin cas 7681-93-8 is especially effective against aspergillus and fusarium corneal infections.
Thera. Category: Antibacterial

Cas No.: 7681-93-8
Synonym: 235, E235; NATAMYCIN;PIMAFUCIN;PIMARICIN;PIMARICIN, STREPTOMYCES CHATTANOOGENSIS;antibiotica-5283;cl12,625;delvocid;delvolan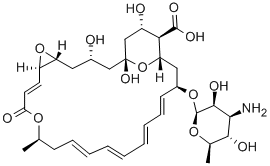 Molecular Formula: C33H47NO13
Molecular Weight: 665.73
Assay: ≥98.%
Appearance: White Crystalline solid

Storage: Normal.
Packing:Export worthy packing
Material Safety Data Sheet:Available on request
Usage: Pimaricin 7681-93-8 is an antifungall drug used to treat ophthalmic infections, and as a food Preservative.