Product Description
Erlotinib Hydrochloride CAS 183321-69-9, also called Erlotinib HCl, is a selective epidermal factor receptor (EGFR)-tyrosine kinase inhibitor and widely used to anti-neoplastic. Processed Erlotinib Hydrochloride CAS NO 183321-69-9 use superior quality raw material and cutting edge equipment to ensure its high purity and best quality. Erlotinib Hydrochloride 183321-69-9 compliance with national industry standard and on sterile level. We can provide best service and proper packaging.
Thera. Category: Anti-cancer
Cas No.: 183321-69-9
Synonym: N-(3-Ethynylphenyl)-6,7-bis(2-methoxyethoxy)-4- Hydrochloride
Molecular Formula: C22H24ClN3O4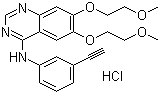 Molecular Weight: 429.8967
Assay: ≥98.%
Appearance: White Crystalline solid

Storage: normal
Packing:Export worthy packing
Material Safety Data Sheet:Available on request
Usage:
Erlotinib HCl 183321-69-9 (OSI-744) is an EGFR inhibitor with IC50 of 2 nM, >1000-fold more sensitive for EGFR than human c-Src or v-Abl.