Product Description
(R)-4-propyl-dihydrofuran-2-one is an intermediate of Brivaracetam CAS number is 63095-51-2, which is an important key intermediate for Brivaracetam. His synthetic methods are mainly divided into chemical synthesis and enzymatic catalysis:
The first one is prepared by reacting (R)-epichlorohydrin with diphenyl malonate to obtain phenyl 2-oxo-3-oxabicyclo[3.1.0]hexane-1-carboxylate. And then reacted with ethylmagnesium bromide to obtain 2-oxo-4-propyl-tetrahydrofuran-3-carboxylic acid phenyl ester, which is decarboxylated at high temperature to obtain (R)-4-propyl-di Hydrofuran-2-one cas 63059-51-2. This method is costly.
The second, (1) the double-digested expression vector pET-30a was ligated with the synthetic target gene by T4 ligase overnight, and 10 uL of the ligation product was added to 100 uL of Rosetta (DE3) competent cells, and placed on ice 30 min, heat shock at 42 ℃ for 60 sec. Place on ice for 2 min. The pre-warmed 0.45 mL LB medium was added and incubated at 37 ℃ for 1 h at 220 ℃. 200 uL of the bacterial liquid was added to an LB plate containing 100 μg/mL of kanamycin, and cultured at 12 ℃ for 12-16 overnight to obtain a recombinant strain E. coli Rosseta;
A single colony of recombinant E. coli containing the ene reductase gene was inoculated into the liquid LB medium containing ampicillin resistance for overnight activation; the OD600 value of the shaking culture was adjusted to 0.6-0.8, and the inducing agent was added to continue the culture overnight; the cells were collected by centrifugation. The cells are suspended in a phosphate buffer, the cell suspension is placed in an ice bath, disrupted by ultrasonic waves, and finally centrifuged to obtain a recombinant olefin reductase;
2: adding the recombinant olefin reductase, coenzyme, coenzyme regeneration system and substrate 4-n-propyl-2(5H)-furanone obtained in step 1 to an aqueous phase buffer having a pH of 6.0-9.0;
3: After the reaction is terminated, the impurities in the solution are filtered off with diatomaceous earth, and the filtrate is extracted with ethyl acetate, dried over anhydrous sodium sulfate, and finally distilled under reduced pressure, and recrystallized to give the brivaracetam intermediate (R)-4-propyldihydrofuran-2(3H)-one CAS 63095-51-2.

Thera. Category: Anti-Epilepsy
Cas No.: 63095-51-2
Synonym: brivaracetam intermediate 1;Brivaracetam Intermediate;2(3H)-Furanone, dihydro-4-propyl-;(R)-4-propyl-dihydro-furan-2-one
(R)-
Molecular Formula: C7H12O2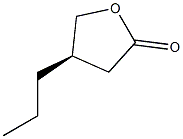 Molecular Weight:128.17
Assay: ≥98.%
Packing:Export worthy packing
Material Safety Data Sheet:Available on request
Usage:(R)-4-propyl-dihydro-furan-2-one CAS 63095-51-2 is used For Making Brivaracetam, Brivaracetam is a racetam derivative of levetiracetam used in the treatment of partial-onset seizures. Brivaracetam binds SV2A with 20 times higher affinity than levetiracetam 2. It is available under the brand name Briviact made by UCB.