Product Description
L-Carnitine-L-tartrate CAS number is 36687-82-8,It can emit a pleasant acid odor, It is easily soluble in water, not easily soluble in organic solvents. The main function is to oxidize fatty acids in the liver, skeletal muscle and heart muscle. L-Carnitine-L-tartrate cas 36687-82-8 is a substance essential for fat and energy metabolism, helping the body to efficiently metabolize fat, and it is also an internationally recognized multi-functional nutrient. L-Carnitine-L-tartrate not only has the relevant pharmacological effects of L-carnitine itself, but also better promotes its absorption. At the same time, the product also avoids the disadvantage that L-carnitine itself has strong hygroscopicity and is not conducive to preservation. At present, there is no literature report on the detailed preparation method of L-carnitine-L-tartrate, so Develop a new preparation method kind of L-Carnitine-L-tartrate which is easy to handle, solvent recyclable, high purity, small particle size and good fluidity suitable for industrial production needs to be solved urgently.

Thera. Category:Food additive
Cas No.: 36687-82-8
Synonym:L-CARNITINETARTRATE,POWDER;L-Carnitine L-Tartrate (factory standard);L-Carnipure(R) tartrate;(R)-BIS[(3-CARBOXY-2-HYDROXYPROPYL) TRIMETHYL AMMONIUM] L-TARTRATE;L-(-)-CARNITINE-L-(-)-TARTRATE;L-CARNITINE L-TARTRATE;L-CARNITINE TARTRATE;L-CARNITINE-1-TARTRATE;
Molecular Formula:C11H19NO8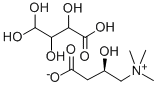 Molecular Weight:293.27
Pharmacopeia: in house spe.
Specifications:Available on request
Packing:Export worthy packing
Material Safety Data Sheet:Available on request