Product Description
Sitafloxacin hydrate cas number 163253-35-8, is a quinolone broad-spectrum antimicrobial, it is used for the treatment of severe refractory infectious diseases, sitafloxacin cas 163253-35-8 can be developed into oral administration or injected. Due to the molecular structure contains a cisfluorocarbamidine group, and has good pharmacokinetic properties, and can reduce the adverse reactions, the antibacterial activity in vitro is significantly enhanced than most of similar drugs., it not only significantly enhanced the antibacterial activity of the GRAM positive bacteria, and it has the antibacterial activity of many strains which resistant to fluoroquinolones from clinically isolated. Studies on the antibacterial activity of sitafloxacin in vitro have shown that it has a broad spectrum of antibacterial activity, not only for antibacterial activity against Gram-negative bacteria, but also has strong antibacterial activity against Gram-positive bacteria, anaerobic bacteria and mycoplasma and chlamydia , also have a good bactericidal effect on many clinical common fluoroquinolones resistant strains. Clinical trials have shown that Sitafloxacin 163253-35-8 is expected to be an important drug for the treatment of single or mixed bacterial infections such as respiratory tract, urogenital tract, abdominal cavity and skin and soft tissue. At present, the disadvantage process of sitafloxacin is can not be amplified commercial production and cost expensive, which seriously hinders its further application and development in organic chemistry and biomedicine. Therefore, the development of a process route that can safely amplify production will have great use value.
Thera. Category: antibiotic
Cas No.: 163253-35-8
Synonyms: Sitafloxacin hydrate;Sitafloxacin Sesquihydrate Du 6859a;Unii-9td681796g
MF:C19H18ClF2N3O3.H2O

NW:427.833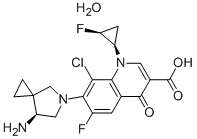 Assay: ≥99%
Packing:Export worthy packing
Material Safety Data Sheet:Available on request
Usage: Use to making Sitafloxacin which is a fluoroquinolone antibiotic that shows promise in the treatment of Buruli ulcer.

Related intermediates:
1) (S)-7-tert-Butoxycarbonylamino-5-azaspiro[2.4]heptane CAS number 127199-45-5
2) Carbamic acid, [(7S)-5-(phenylmethyl)-5-azaspiro[2.4]hept-7-yl]-, 1,1-dimethylethyl ester CAS 144282-37-1
3) (1R,2S)-FLUOROCYCLOPROPYLAMINE TOSYLATE CAS 143062-84-4