Product Description
Benzoxazole is a Compound in pale yellow solid, which has the Molecular Formula: C11H7CIOMolecular Weight: 190.6.Benzoxazole purity > 98%, is not in stock, would be available through custom synthesis. Minimum 100 gram order is requested. Current shipping out time is about 30 days after order is received.
Thera Category:
Cas No.:
Synonym: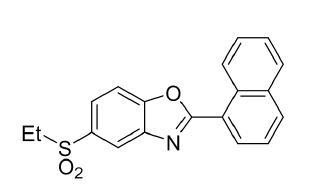 Molecular Formula: C11H7CIO
Molecular Weight: 190.63
Purity: NLT98%
Appearance: Pale yellow solid
Specifications: Available on request
Packing:Export worthy packing
Material Safety Data Sheet:Available on request
Procedure: To an oven-dried, argon-cooled flask (100 mL capacity) equipped with magnetic stir
bar was added 1 (2.01 g, 10 mmole, 1.0 equiv) and dioxane (20 mL). To this solution was slowly
added acid chloride 2 (1.91 g, 10 mmole, 1.0 equiv). The solution was diluted with dioxane (5
mL), methanesulfonic acid (3, 2.98g, 30 mmole, 3.1 equiv) were added. The reaction was slowly
heated to reflux (100 °C) and maintained at reflux for 2.5 hours. The analysis of the reaction
mixture using thin layer chromatography revealed complete consumption of the starting
materials 1 and 2. The reaction was cooled to room temperature and dioxane was removed
using rotary evaporator. The reaction mixture was diluted with ethyl acetate (ca. 50 mL) and
was slowly poured into sat. NaHCO3 solution. The organic layer was washed with distilled water
(2 X 50 mL) and was dried using anhydrous Na2SO4. Evaporation of ethyl acetate under
reduced pressure lead to the isolation of the desired product in crude form. Purification using
silica gel flash column chromatography lead to the isolation of the pure chemical (2.51 g, 74%
yield) as a pale yellow solid.