Product Description
Bisoprolol fumarate CAS number is 104344-23-2, a long-acting β1-receptor blocker with high cardiac selectivity. Clinically used for the treatment of angina, arrhythmia and hypertension. It has a high affinity for the β1-receptors of the bronchial and vascular smooth muscles, thereby dilating blood vessels and lowering blood pressure. It blocks the neuroendocrine system and, more importantly, the mechanism of myocardial remodeling, prevents and delays the development of myocardial remodeling, improves myocardial compliance, and significantly improves left ventricular diastolic function, thereby gradually expanding the enlarged left ventricular cavity. Long-term use of bisoprolol fumarate for the treatment of hypertension, while reducing blood pressure, can also improve systolic and diastolic function, reverse ventricular remodeling, and have antioxidant and anti-apoptotic effects, thus fully protecting the heart Features. Clinical studies have shown that the drug has a high oral absorption rate and a half-life of 10 to 12 hours.
When bisoprolol fumarate cas 104344-23-2 is combined with other antihypertensive drugs, the antihypertensive effect is enhanced. In combination with reserpine, methyldopa, clonidine or chlorpheniramine, heart rate can be slowed down. When used in combination with reserpine, reserpine should be discontinued after a few days of discontinuation of the drug.
Combined with heart pain can enhance the antihypertensive effect of this product. When used in combination with a cardiopulmonary or a thiazolone calcium antagonist or other antiarrhythmic drug, patient monitoring is required because this combination may cause hypotension, bradycardia, and others.

Thera. Category:Receptor Blocker
Cas No.: 104344-23-2
Synonym: 1-(propan-2-ylaMino)-3-(4-{[2-(propan-2-yloxy)ethoxy]Methyl}phenoxy)propan-2-ol;Bisoprolol fumarate;Bisoprolol Hemifumarate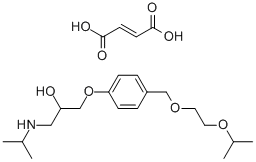 Molecular Formula:C22H35NO8
Molecular Weight:441.52
Assay: ≥99.%
Packing: Export worthy packing
lMaterial Safety Data Sheet: Available on request