Product Description
Carbazochrome sodium sulfonate CAS number is 51460-26-5, which is a new type of hemostatic drug, its pharmacological mechanism is through increasing capillary elasticity, reducing permeability, increasing its contractility, promoting thrombin activity and dissolution of fibrin,the element causes the bleeding site to form a thrombus and achieve the purpose of stopping bleeding. The drug is widely used in clinical practice for bleeding in the urinary system, upper digestive tract, respiratory tract and obstetrics and gynecology diseases. It is effective for urinary bleeding and can also be used for trauma and surgical bleeding.
Carbazochrome sodium sulfonate is a new generation of blood vessel hemostasis and is a highly clinically valuable vascular strengthening agent. It is a derivative of Carbazochrome, which introduces sodium sulfonate groups into the molecular mechanism, which overcomes the shortcomings of the solubility of Carbazochrome and must be assisted by salicylic acid, thus producing a significant hemostatic effect. Carbazochrome sodium sulfonate CAS 51460-26-5 can increase the resistance of capillaries to damage, reduce the permeability of capillaries, and promote the retraction of the broken ends of capillaries to stop bleeding.
Carbazochrome sodium sulfonate CAS number 51460-26-5 can enhance capillary elasticity, reduce capillary permeability, enhance the retraction of capillary rupture end, stabilize acid mucopolysaccharide in capillaries and surrounding tissues, significantly shorten bleeding time, and promote thrombin activity and The dissolution of fibrinogen, which causes thrombus formation at the hemorrhage site to achieve hemostasis, is an effective hemostatic agent for various hemorrhages caused by increased capillary permeability and major bleeding caused by various causes. Carbazochrome sodium sulfonate does not contain salicylic acid groups, does not cause "hemolysis" problems, does not affect hematopoietic function, at the same time, non-irritating, safe medication, long-term use, strong water solubility, very low toxicity, does not affect the coagulation mechanism, It has rapid onset, long-lasting effect and wide application range. It is a new generation of blood vessel hemostasis and is a kind of vascular strengthening agent with great clinical value. It has a large clinical demand.

Thera. Category:Antihemorrhagic Agent
Cas No.: 51460-26-5
Synonym:CARBAZOCHROME SODIUM SULFONATE;CARBAZOCHROME SODIUM SULFONATE TRIHYDRATE;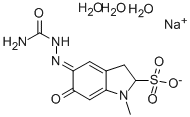 Molecular Formula:C10H17N4NaO8S
Molecular Weight:376.32
Assay: ≥99.%
Packing: Export worthy packing
lMaterial Safety Data Sheet: Available on request