Product Description
Calcifediol CAS number is 63283-36-3, alias 25-hydroxy vitamin D3. Calcidiol is an active metabolite of vitamin D3 naturally present in humans and is widely used. It is mainly used for the treatment of various chronic bone disorders such as osteoporosis in the elderly, as well as metabolic bone diseases associated with chronic renal failure, and hypocalcemia. In addition, calcifediol can also be used as a feed additive. Calcidiol is the main form of storage of vitamin D in the body and can be detected in plasma, so the level of calcifediol in plasma is used to evaluate whether vitamin D is deficient in the body. The calcifediol is further metabolized in the kidney to produce calcidiol with the greatest biological activity, and is combined with the vitamin D receptor to be transported to various target organs. Calcitriol, together with parathyroid hormone and calcitonin, regulates plasma calcium and phosphorus balance and prevents rickets and osteomalacia. Vitamin D active ingredients can also increase bone density and reduce cardiovascular and cerebrovascular risk.
At present, calcified glycol is often used in combination with vitamin D3 in clinical use, which can rapidly and significantly increase the level of calcifediol in plasma and achieve the purpose of improving vitamin D level in the body to treat osteoporosis.
The preparation of Calcifediol CAS number 63283-36-3 has two methods of chemical synthesis and biological fermentation. The chemical synthesis reaction steps are numerous, expensive reagents are required, and a racemate is generated during the reaction process, which requires a complicated resolution process, which not only greatly affects the yield, but also greatly affects the yield. Moreover, it is difficult to completely separate, and the production of calcifediol by chemical synthesis will cause greater pollution to the environment. The method of biological fermentation can solve the chiral structure problem of calcifediol by utilizing the specificity of the enzyme in the microbial cells, and the production condition is mild, the yield is high, the cost is low, and the environment is friendly, which is an effective alternative to chemical synthesis. However, there are some problems in the process of producing calcifediol by biological fermentation. In the fermentation process, the fermentation time is long, and the nutrient supply may be insufficient. At the same time, due to the long fermentation time, the fermentation liquid has a large evaporation volume. The reduction is more, the viscosity of the fermentation liquid is increased, the oxygen transmission is limited, the mycelium is broken and autolyzed prematurely, and the pH value of the fermentation liquid is increased, which in turn affects the activity of the enzyme in the mycelium, resulting in the result is that the residue of the substrate vitamin D3 is more, the yield of the product calcifediol is slow, and the fermentation time is long, resulting in low fermentation efficiency. In addition, the choice of strains also has a very important impact.

Thera. Cat
egory:
Rickets and Osteomalacia
Cas No.:63283-36-3
Synonyms: 25-hydroxy Vitamin D3 monohydrate;25-OH-D3;CALCIDIOL;25-OH-VD3;CALCIFEDIOL;25-OH-Vitamin D3;Calcifediol hydrate;Calcifediol (75 mg);25-HYDROXYVITAMIN D3;CALCIFEDIOL 1-HYDRATE;CALCIFEDIOL MONOHYDRATE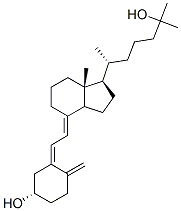 Molecular Formula: C27H44O2

Molecular Weight: 400.64
Purity: ≥98%
Packing: Export worthy packing
Material Safety Data Sheet: Available on request