Product Description
Calcitriol cas number is 32222-06-3,which is one of the most important metabolically active products of vitamin D3 in the human body. It can promote the absorption of calcium in the intestine and regulate the calcification of bone. Calcitriol was launched in 1978 under the trade name "Rocaltrol" for the treatment of postmenopausal osteoporosis, chronic renal insufficiency, postoperative hypothyroidism, idiopathic hypoparathyroidism, and pseudohypothyroidism. vitamin D-dependent rickets, hypophosphatemic vitamin D resistant rickets. Because calcitriol is an endogenous substance that is effective, safe, and stable, It has been clinically used for osteoporosis in Japan, New Zealand, Australia, Italy, and the United Kingdom for decades. It is listed by the World Health Organization as one of the drugs of choice for the treatment of osteoporosis.
Calcitriol cas number 32222-06-3 is present in healthy people and is the most important active product of vitamin D3 metabolism in the body. Vitamin D3 has more than 40 kinds of metabolites, and the main bioactive activity is calcitriol, which acts by binding to vitamin D receptors on the nucleus of target organ tissues. Calcitriol has a different effect on different target tissues. In vitro experiments have shown that calcitriol has the effect of promoting bone formation and increasing the amount of metastatic growth factor beta, which is an important factor in stimulating the proliferation and differentiation of osteoblasts. High-dose calcitriol promotes osteoclast differentiation in vitro, inhibiting bone absorption in the body by increasing calcium absorption and inhibiting the secretion of parathyroid hormone. In the parathyroid glands, calcitriol acts directly on parathyroid cells and inhibits the secretion of parathyroid hormone.
Calcitriol cas 32222-06-3 has the following properties: Calcitriol is a white or off-white crystalline compound naturally occurring in humans; it is almost insoluble in water, soluble in organic solvents, and sensitive to air, light and heat. Since calcitriol is hardly soluble in water and difficult to prepare, the main forms of preparation of calcitriol are soft capsules and capsules. Calcitriol has a high physiological activity, a single dose is very small, the general therapeutic dose is only 0.25μg / day -1.0μg / day, in comparison with other oral solid dosage forms, calcitriol is dissolved in a suitable fat-soluble matrix It is prepared into a soft capsule, which can ensure uniform and accurate loading, small dose error, and stable dosage per patient, thus ensuring efficacy and preventing side effects.

Thera. Cat
egory:
Psoriasis vulgaris
Cas No.:32222-06-3
Synonyms: (1α,3β,5Z,7E)-9,10-Secocholesta-5,7,10(19)-triene-1,3,25-triol;1,25-Dihydroxyvitamin D3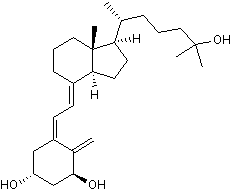 Molecular Formula: C27H44O3

Molecular Weight: 416.329
Purity: ≥98%
Packing: Export worthy packing
Material Safety Data Sheet: Available on request