Product Description
Tofacitinib intermediate of 3-bis (4-Methylbenzoyloxy) succinate) 477600-71-8 is a compound of (2R, 3R) -2,3-bis [(4-methylbenzoyl) oxy] succinic acid and (3R, 4R) -N, 4-dimethyl-1- (phenylmethyl) -3-piperidinamine.Molecular formula C48H62N4O8 Molecular weight 823.02788, It is key intermediate of tofacitinib citrate. We had entered the commercial production phase in 2013. Due to market demand is very small, our production order volume is always maintained only in kilograms scale. It is completely independent development of tinib intermediates in our company,
Thera. Category: Anti-Cancer
Cas No.: 477600-71-8
Synonym: 2-[(1S,2S)-1-Ethyl-2-(phenylmethoxy)propyl]hydrazinecarboxaldehyde;[S-(R*,R*)]-2-[1-Ethyl-2-(phenylMethoxy)propyl]hydrazinecarboxaldehyde;N'-((2S,3S)-2-(Benzyloxy)pentan-3-yl)forMohydrazide
Molecular Formula:C48H62N4O8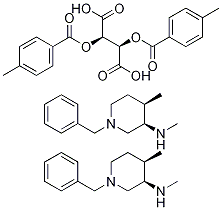 Molecular Weight: 823.02788
Pharmacopeia: in house spe.
Specifications:Available on request
Packing:Export worthy packing
Material Safety Data Sheet:Available on request