Product Description
Pazopanib intermediate also called 3-methyl-6-nitro-2H-indazole CAS number is 1313372-75-6 ,Molecular formula C8H7N3O2, Molecular weight 177.16008, it is a relatively advanced intermediate of pazopanib, generally few people buy this Intermediates, normally they buy later steps intermediates. The main strategic goal of our production of this product is to extend the product line of pazopanib to further enhance the overall competitiveness. Even if we can not sell out this intermediate, we can also use by our own consumption consumed. We have been fully commercialized 3-methyl-6-nitro-2H-indazole CAS number 1313372-75-6, the synthesis process is very mature. As the patent record that use 2-Ethylaniline as raw material,just through two steps reaction to get 3-methyl-6-nitro-2H-indazole CAS 1313372-75-6. It is proved that the synthetic method is not ideal, while the thinking and direction is correct, further enhance and improve the route still have large space.

Thera. Category: Anti -cancer

Cas No.: 1313372-75-6
Synonym:3-Methyl-6-nitro-2H-indazole;Pazopanib intermediate
Molecular Formula:C8H7N3O2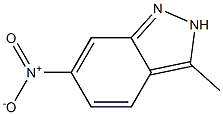 Molecular Weight: 177.16008
Pharmacopeia: In house Spec.
Specifications:Available on request
Packing:Export worthy packing
Material Safety Data Sheet:Available on request
Pazopanib Intermediate lists:
2,3-Dimethyl-2H-indazol-6-amine, CAS 444731-72-0

2,3-DIMETHYL-6-NITRO-2H-INDAZOLE,CAS 444731-73-1
3-methyl-6-nitro-2H-indazole CAS number 1313372-75-6

2-Ethyl-5-nitrobenzenamine, CAS numbe 20191-74-6.
2-Methyl-5-AMiobenzenesulfonmide CAS 6973-09-7,
2-methyl-5-nitrobenzenesulfonamide CAS number 6269-91-6,