Product Description
380894-77-9,Diethyl ((5-(3-fluorophenyl)pyridin-2-yl)methyl)phosphonate
We are professional CAS380894-77-9,Phosphonic Acid Diethyl Ester manufacturers and suppliers in China. These high quality products are formulated by adopting quality methods and using well-tested ingredients that are procured from the certified vendors of the market. We offer these products in proper packaging of diverse quantity to meet assorted requirements of the clients.
Thera. Category: thrombin receptor
Cas No.:380894-77-9
Synonym: Phosphonic acid, [[5-(3-fluorophenyl)-2-pyridinyl]Methyl]-, diethyl ester;[5-(3-fluorophenyl)-pyridin-2-ylMethyl]-phosphonic acid diethyl ester
Molecular Formula: C16H19FNO3P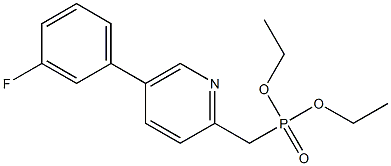 Molecular Weight:323.29
Assay: ≥98.%
Packing:Export worthy packing
Material Safety Data Sheet:Available on request
Vorapaxar (brand name Zontivity, formerly known as SCH 530348) is a thrombin receptor protesa-activated receptor,PAR-1,ANTAGONISTB based on the natural product himbacine. Discovered by Schering-Plough and currently being developed by Merck& CO.
Related products:
1)CAS 899809-61-1,Vorapaxar Sulfate M-4
2)CAS 380894-77-9,Phosphonic acid;[[5-(3-fluorophenyl)-2-pyridinyl]Methyl] diethyl ester;Side chain of Vorapaxar sulfate
3)CAS Vorapaxar Sulfate,SCH 530348